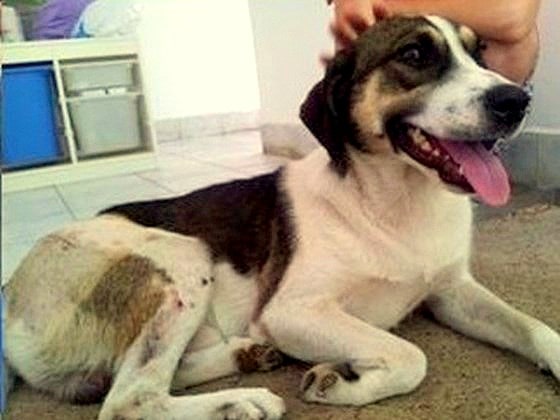 This comes from Life With Dogs fan Cynthia Sherman:
On November 10, when I was driving home from work I found this poor puppy who was laying in the middle of the road. As many of you would probably do, I stopped the car immediately and went to him to see if he was all right, if he needed medical attention, or if he had a name tag and someone lost him.
As I approached him, he raised his head without making any sound and looked at me as he was asking for help. I saw he was badly injured (most probably got hit by a car), and drove him as fast as I could to the vet. The entire way he yelped, and I knew it might be from the open injuries or something he had broken.
Unfortunately after the consult, as I expected, the doctor gave me the bad news. He needs urgent surgery because he has a broken hip. At this moment he can't move his body at all, and the operation needs to occur as soon as possible so he won't develop any permanent injuries.
I have already paid $800 for the consultation, treatment of his wounds and for a few days of housing in advance. As a single mother with one son, I cannot afford the surgery and the medication he will need afterwards. I have been able to save $500 more, but that will not be enough.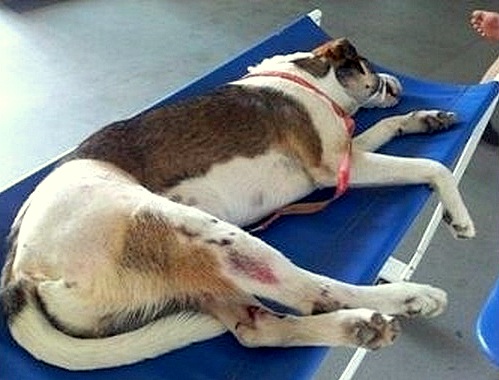 When I found him, he had no name tag and he was very dirty and skinny. I assume he is a stray dog and I wish to take him in as a foster and to give him a chance to have a normal, healthy, happy, loved, puppy life that he's never had.
One of Dante's supporters said:  "I honestly believe God loans us these precious animals to see how one might fare as a human! You have fared well and I hope many more will follow. Bless you and your new addition." – Katy 

That's one of the reasons I am struggling for Dante, because dogs are the man's best friends, and as Katy said, precious animals that deserve to have a good life.
I hope in the next week to be able to get him into surgery and save him once and for all from this bad luck that he has encountered, and find him a good and caring family.
Please help raise the money needed for the operation and give this sweet dog a chance!  If you wish to support Dante, please CLICK HERE.
Thank you so much for your support and your prayers, may God bless you all!
You can also contact Godspeed Animal Care and specify that the donations are for Dante.
102 Tewning Rd
Williamsburg, VA
Phone number (757) 253-0656
Thank you!!