Back in September 2012, Southern Animal Foundation (SAF) in New Orleans, rescued Barbie,  an injured female, sweet natured, pocket pit bull. When found, the hurt dog was just 18-months old, heartworm positive, needed to be spayed, weight 29 lbs and had large open wound on her mouth. Barbie had been used as a bait dog and she needed urgent rescue.
SAF learned about Barbie because a volunteer from Jefferson Parish Animal Shelter reached out to them when the sweet dog was closed to being euthanized. Jefferson Parish Animal Shelter did not have the funds to cover Barbie's extensive medical costs.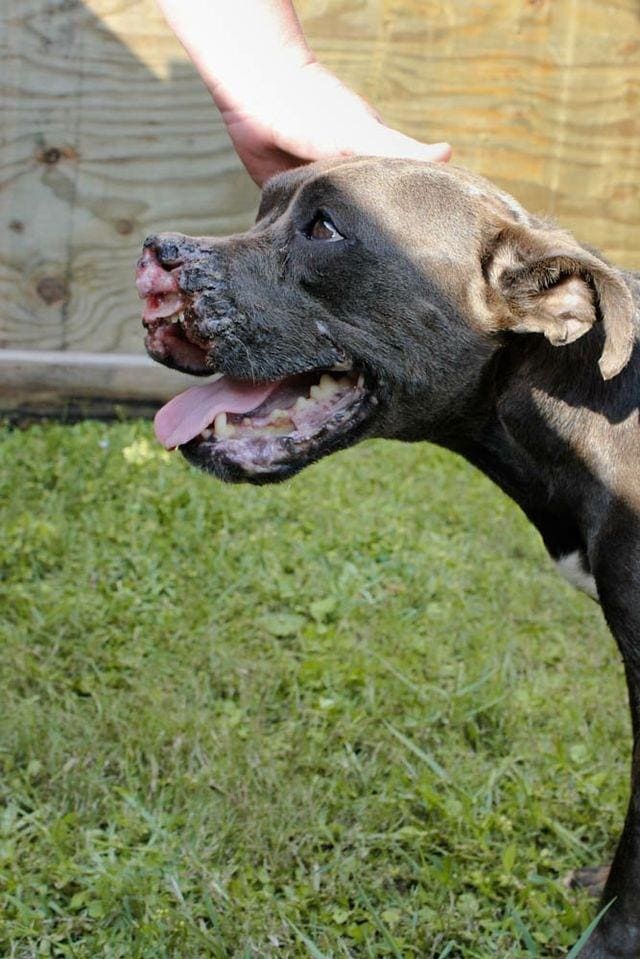 With open arms, SAF welcomed Barbie into their program. The dog needed major reconstructive surgery to close her wounds and SAF reached out to other organizations to help Barbie on her road to recovery.
"This is one of our most graphic, horrific cruelty cases we've taken into our rescue program," said SAF.
Dr. Allyson Corr at SAF performed Barbie's surgery and thanks to her the canine is now a healthy, happy dog. However, Barbie is still looking for her loving forever home.
Barbie is now 2-years-old and weighs 39 lbs. She is very active, loves to play and run in the yard. SAF is offering sessions with a certified trainer and 12 months of Trifexis (flea and heartworm prevention) for the lucky local adopter who steps up to adopt Barbie and take her home.
If you are looking for a loving dog and would love to adopt sweet Barbie, please contact Southern Animal Foundation (SAF) at 504-671-8235 or [email protected].  Fill out the adoption application.
Let's help Barbie get her happily ever after. She is waiting for someone who will love and protect her always!