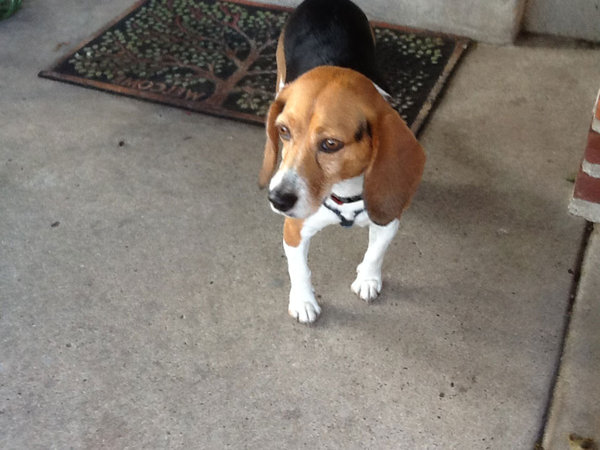 Robert Lorenz was taking his two beagles for their nightly walk along the Delaware River in Burlington City, NJ. When strangers wanted to stop and pet them a series of events unfolded that no one could've expected.
One of the beagles, 7-year-old Brandi, is a rescue who is very skittish around people. "Brandi is afraid of everyone, "Alexis Lorenz, Robert's wife, said. "So when people come up to pet her, she escaped from her harness and ran north on the promenade. My husband searched for an hour before he came home to tell me she was missing." The Lorenz's got some friends and began searching for Brandi.
Meanwhile, police had been alerted by a toll collector of a dog on the Burlington Bristol Bridge, which spans the Delaware River and goes into Pennsylvania. Police Officers Bob Bittner and Sgt. Ray Warmkessel arrived on the scene to find cars slowing down to avoid Brandi. "It was after 10 p.m. We had a pretty good flow of traffic," Warmkessel stated. "A couple people stopped and tried to catch her, and that's when she went over the side."
Brandi was so frightened by the people trying to help her that she jumped off the bridge, falling an estimated 65 to 75 feet into the Delaware River below. The officers and others who had been trying to help capture the dog rushed to the side of the bridge and were shocked to find Brandi swimming to the shore. "We saw her swimming. The current was taking her upriver, and she just swam to the beach," Warmkessel said.
Once on the shore Brandi disappeared into the darkness and the search continued for her. Officer Warmkessel  radioed a passing New Jersey State Police Marine Unit boat to help in the search. The Marine Unit used its lights to help light up the shore.
The Lorenzes arrived shortly after Brandi jumped. They, along with more than 20 other people, continued the search for Brandi. After searching for a while Alexis went home to change and prepare to continue searching all night. She returned to the area around 1 a.m. and that's when Brandi found her. "I got there at pitch dark and there was Brandi just standing in the path of my headlights, in the pitch dark." Brandi was wet, tired and scared but otherwise seemed okay. Upon returning home Brandi jumped into her favorite chair and showed no sign of injury.
A trip to the vet the next day showed that Brandi had a bruised stomach but otherwise was healthy. The Lorenzes are relieved that they found her and she is safe and healthy. "All I can think is that, wow, she is back, and I thought I'd never see her again. I've never even seen her swim. I don't know how she did it." Brandi's adventure and daring leap has earned her notoriety and a new nickname, Leaping Licker. In addition to the new nickname the Lorenzes have purchased her a new harness in hopes of preventing further escapes.