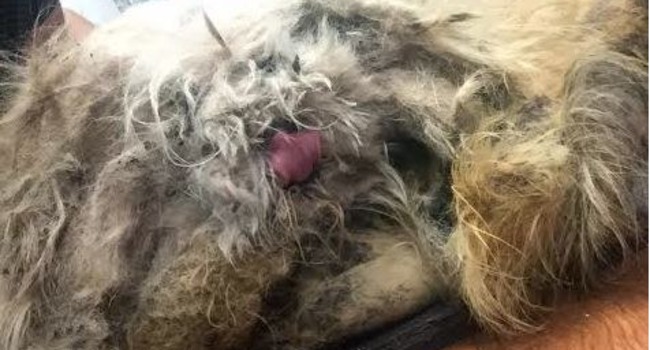 ————————————————————————————————————————————————————————————————————————————–
The horror show that rescuers saw and smelled when the five Lhasa apsos were surrendered was unparalleled.
Their owner had been referred to Critter Mama Rescue in Ruskin, Florida, back in February. The dogs' owner met the group's founder, Robin Roberts, along with a few volunteers, in a parking lot. He said his landlord didn't know about the dogs.
"The concept of having five adoptable, well cared for Lhasas sounded fine," Roberts, whose group helps people who can no longer care for their animals due to illness or hardship, told The Dodo.
Sadly, this was not the case. Roberts and volunteer, Connie Phoebus, watched as the first dog was brought out.
"We gasped in horror," Roberts said. "These creatures didn't have faces or feet. They literally could not walk or see. The stench drifted across the parking lot and hit us hard; smelling of urine, feces and filthy dogs."
Roberts decided to reach out to Rick Chaboudy, executive director of Suncoast Animal League (SAL) in Palm Harbor, Florida. SAL was better equipped to handle the complex needs of the dogs, four female and one male.
The Lhasa apsos were the worst case of neglect Chaboudy had seen in his 30 years of rescue.
He, too, was overwhelmed with their stench and appearance and took the dogs directly to Clint Wilson, groomer and owner of Island Dog Outfitters. Wilson volunteers his services for dogs in need.
"The mats on these dogs were so thick, one of the dog's ears was stuck to her head," Chaboudy told The Dodo. "Feces and urine were caked into the mats, but their feet were the worst. The dogs could barely walk due to having 2 inches of matted fur between their paws and the ground." Poking through the fur were toenails overgrown by 3 or 4 inches and twisted in several directions.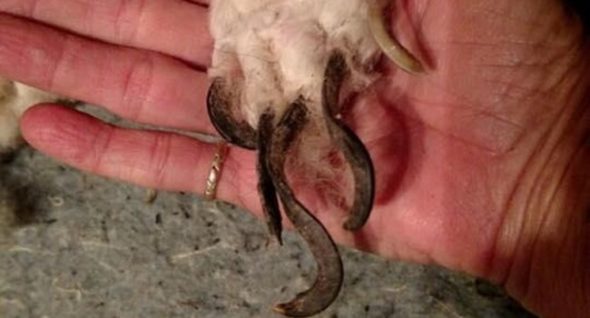 ————————————————————————————————————————————————————————————————
"We removed between one and a half pound of mats from the foot of one dog alone," Chaboudy said.
After grooming, it was time to be vetted — and it was clearly the first time any of them had seen a doctor. All five were loaded with internal and external parasites and suffered from skin, ear and eye infections. They were malnourished and had severe dental disease.
The vet determined none of the dogs, since discovered to have come from an Iowa puppy mill, were under 10 years of age. Two of the females appeared to have been repeatedly bred.
The dogs were treated for their external conditions and underwent surgery to remove decaying teeth and to get spayed and neutered. One was found to be suffering from pyometra, an infection of the uterus. Another had mammary tumors removed that later proved to be cancerous. Another had a hole in her cornea. All of them had to have teeth removed. All were partially or fully blind.
Once they recovered from their surgeries, the Fab Five, as they had been nicknamed (Achilles, Lilly, Sequoia, Sissy and Helen) and began attending SAL events. They were featured on the local news, they interacted with people and they learned to trust. Every day, fans awaited updates on social media. Well wishes were posted from as far away as the UK. (The video below showcases the Fab Five in downtown Dunedin, FL, enjoying doggie ice cream.)
————————————————————————————————————————————————————————————————————————————–
Six weeks after they were surrendered, all five were ready to go home with their new families. On April 2, a fundraiser was held to offset the $6,100 in vet bills the dogs had racked up. At the fundraiser, Chaboudy introduced each adopter while he tearfully let go of his Fab Five, one by one.
————————————————————————————————————————————————————————————————
Sissy was adopted by Gloria Phillips, who waited a long time to adopt again after losing a dog who was very special to her. "I knew, it's time," Phillips Told the Dodo. "I told myself, 'You're ready.'"
Yvette and Jim Klausch adopted Achilles. Upon submitting her appliation, Yvetter told Chaboudy, "I can guarantee you he'll never have another bad day in his life."
Gloria Scott, who has several animals with special needs, adopted Helen.
—————————————————————————————————————————————————————————————————-
Lilly went home with Kim Tutsch. She now lives with her rescued dachshund siblings, Hershey and Wiggles. Although Lilly's tumors were cancerous, Tutsch is determined to give Lilly the best life possible.
Mila Miller adopted Sequoia. She and her husband, Ryan, have four cats at home. Miller always wanted a dog and felt an older one would be a perfect fit.
—————————————————————————————————————————————————————————————————-
Chaboudy, who looks forward to updates on the Fab Five, summed up his experience on his Facebook page when he wrote, "We had the BEST afternoon yesterday celebrating the journey, adoptions and beginning of the Fab Five's new lives. It was like like a bestselling novel with all the great elements. We laughed. We cried. We cheered. Then we said goodbye."