Even though you love your furry friend, a new dog or puppy that's not housetrained can quickly make a mess of your carpets.
Potty pads can be extremely helpful during the potty training phase,although they work out pretty pricey. However, washable dog pee pads can help to save you money and mess!
If you want an eco-friendly, mess containment solution for your canine companion's accidents, washable potty pads for dogs are ideal.
Read this guide to the best washable dog pee pads on the market today.
Here are our reviews of seven excellent washable dog pee pads that can help you keep your home clean and tidy if your dog has an accident.
All these outstanding products are available for you to buy online. Simply click the links to read other pet parents' reviews and place your order!
Top 7 Washable Dog Pee Pads Reviews
1. Pet Parents Pawtect Pads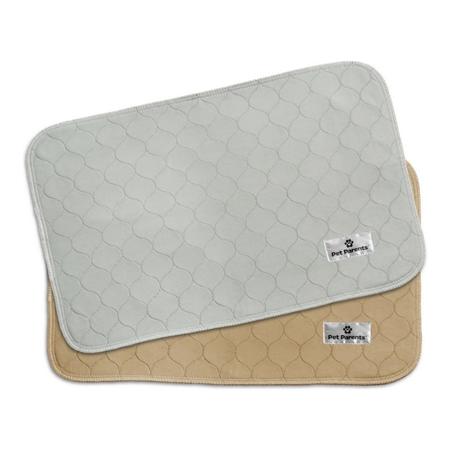 Available in 4 sizes
Machine-washable
Triple-stitched for durability
These washable dog pee pads come in a range of four sizes to accommodate dogs of different breeds and sizes.
The pads come in packs of two, one gray and one tan, making the pads quite attractive and easy to blend unobtrusively with your room decor. The pads are made of WickQuick absorbent material that helps to lock in pee quickly. That means your furry friend can't paddle in the pee and track it right through your home.
The pads are triple-stitched for durability and feature an anti-slip material back to prevent the pad from slipping around while your pup uses it.
The main downside to Pet Parents Pawtect pads is that the smaller sizes don't hold much moisture and the pads' absorbency decreases markedly after only a few washes.
• Various sizes available
• Durable material for construction
• Trap moisture quickly
• Small sizes don't hold much pee
• Quickly lose absorbency
2. Zampa Pets Quality Reusable Dog Pee Pad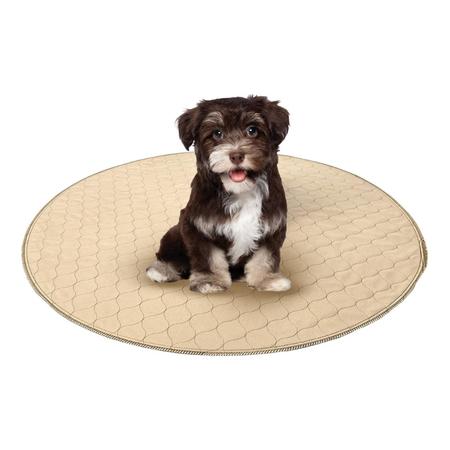 Round shape suitable for playpen
Machine-washable
Four layers of absorbent material
These round pads from Zampa Pets are ideal for using underneath a round playpen to catch accidents while you're not around to watch your puppy.
The eco-friendly materials feature four thick layers of knitted polyester with a waterproof layer to prevent leaks. The pads are thick, soft, and comfortable for your pup to walk on and can be used indoors and outside, too.
Some users find that the pads came up smaller than anticipated, so be sure to order a larger size. In addition, the stiff fabric can be quite noisy when dogs walk on it, which can be irritating to some people.
• Has four layers of absorbing material
• The round shape fits perfectly in a playpen
• Various sizes available
• Only available in beige
• Pads can be noisy to walk on
3. Humane Pet Co Washable Pee Pads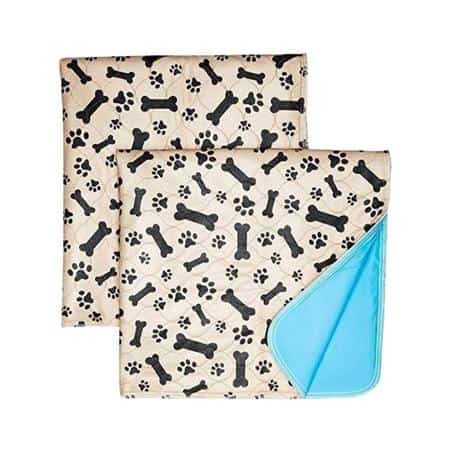 Quilted fabric ideal for whelping
Machine-washable
Four layers of absorbent material
These washable pee pads by the Humane Pet Co have four layers. The top layer is breathable and quilted for comfort, the second layer offers excellent absorbency and traps moisture, there's a PVC waterproof layer, and the back of the pad features a non-slip safety coating.
These pads are made from high-quality materials, offering twice the absorbency of other pads and locking in odors and liquid to protect your home furnishings, wash after wash. The pads feature a cute bone print design, too.
• Has four layers of ultra-absorbent material
• Non-slip vinyl backing material
• Uses high-quality materials
• Quite expensive but excellent value for the quality
4. Rocket & Rex Washable Puppy Training Pads
Attractive bone print
Machine-washable
Four layers of absorbent material
These washable puppy training pads offer superior value for a very affordable price and are available in four-packs.
The pads have four layers of quick-drying material that will soak up several cups of liquid with ease. The waterproof backing helps to prevent leaks, making these pads perfect for use in doggy litter boxes and crates.
The super material used to make these pads is fast-wicking to minimize tracking, and it is extremely easy to machine-wash and dry. Choose from gray or an attractive bone print to match your dog's other accessories.
The main downside to these popular pee pads is that they tend to slip and slide on laminate and hardwood floors. The pads can also shrink a little bit in the wash, leaving them wrinkled and not as comfortable for your pet.
• Has four layers of absorption
• Fast drying
• Excellent value for money
• The pads can shrink slightly in the wash
• Pads don't have a non-slip backing
5. Green Lifestyle Washable Underpads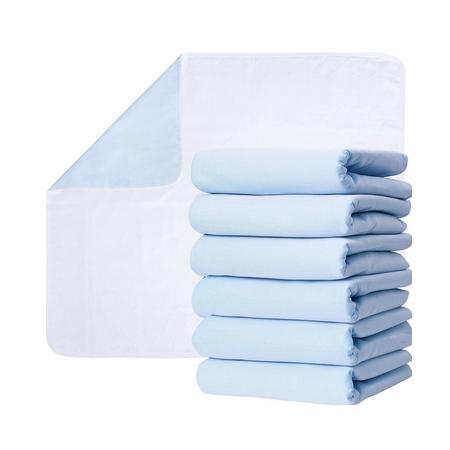 Available in different sizes and multipacks
Machine-washable
Human-grade quality
This multi-functional product is designed for use by dogs and people with incontinence issues and for indoor potty training dogs.
The quilted pads are soft and comfortable, lock in moisture, and won't leak, thanks to their waterproof backing. Since the pads are designed to cope with large amounts of urine, you can use them for large dogs.
These pads are made from premium-quality fabric and feature reinforced seams for durability. That means these potty training pads retain their shape and last a long time, wash after wash.
• Premium training pads
• Thick, comfy pads with waterproof backing
• Best-selling product on Amazon
• Pads might be too large for many dogs
6. Frisco Washable Dog Potty Pads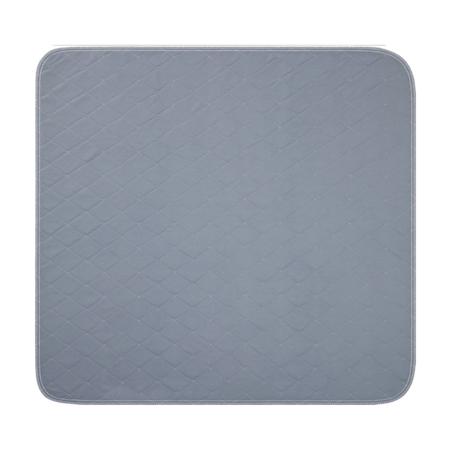 Available in different sizes and multipacks
Machine-washable
Human-grade quality
These potty pads from Frisco are made to soak up and hold any liquid that would otherwise track through your home and damage your floor coverings.
This amazing product comes in a set of two washable potty pads in beige or gray to suit your interior decor scheme. The pads are designed with a non-slip backing to prevent your puppy from slipping when he uses them.
The pads are made using a microfiber towel that prevents leaks and soaks up liquid. The pads are washable so that you can reuse them, saving yourself a fortune on disposal training pads.
• Economical alternative to disposal training pads
• Thick, comfy pads with non-slip backing
Awesome product!
• Quite expensive but worth the money
7. SincoPet Reusable Pee Pad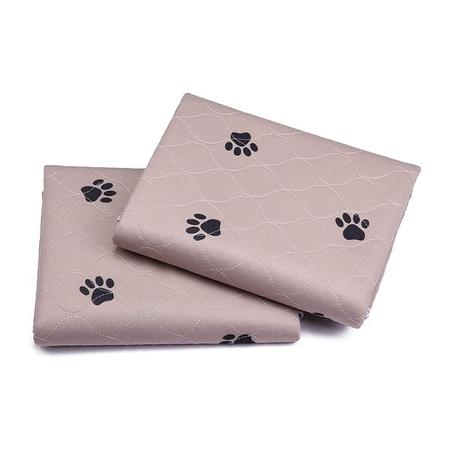 Ideal for large dogs
Machine-washable
Four layers of absorbent material
These washable pee pads are made from 100% polyester knitted durable fabric, providing the ultimate comfort for your dog. The absorbent high-density middle layer soaks up liquid, while the leak-proof, anti-slip gel base keeps the pad in place while keeping your floors dry and protected.
These pads are long-lasting and durable. This makes a nice product that you can use in kennels, crates, and pet carriers, as well as under water and food bowls for messy eaters.
• Machine-washable fabric training pads
• Non-slip, leak-proof backing
• Odor controlling pads
• Leak-resistant but not completely waterproof
FAQs
In this part of our guide, we answer some of the most frequently asked questions about washable dog pee pads.
Q: Do washable dog pee pads work?
A: Although disposable pee pads are a convenient product to use when you're potty training your puppy, they are expensive and finally end up in a landfill. In comparison, washable pee pads are a more environmentally friendly and economical solution.
Washable pads typically absorb more liquid than disposable ones, making them ideal for adult dogs or larger puppies with bigger bladders.
Q: What can you use instead of pee pads for dogs?
A: If you don't like the idea of using pee pads for potty training your dog or puppy, you could substitute the pads for a newspaper. However, a newspaper isn't as absorbent as the soft polyester material that's generally used to make pee pads.
You can buy real grass pee pads for indoor use in a litter box, and these can have considerable benefits during house training. Grass is very absorbent and easy to clean and can provide a nice stepping stone to using an outdoor potty stop.
Artificial grass pee pads are also available. Again, these are relatively easy to clean and are durable.
Q: How do you wash reusable pee pads?
A: Reusable puppy pads are generally machine-washable. So, to clean the pads, put them in your washing machine with laundry detergent and wash them on a regular warm water cycle.
Dry the pads in your tumble dryer on medium heat or air dry them. Don't use washing products that contain bleach, and avoid using fabric conditioner since that will reduce the pads' absorbency.
Q: How do you stop washable pee pads from smelling?
A: One of the downsides to using washable dog pee pads is that they can develop a lingering odor of urine after a while.
You can help to stop your washable pee pads from smelling by washing them regularly in your washing machine and using an odor eliminator to get rid of the smell. Many owners find that airdrying their pet's potty pads in direct sunlight after washing helps to counteract the smell.
Stubborn urine odors can be dealt with by soaking the pad in a solution of 1 cup of baking soda and 4 cups of hot water for 2 to 4 hours before washing.
Final Thoughts
Did you enjoy our guide to the best washable dog pee pads? If you did, please share the article.
Of the washable dog pee pads we reviewed, our favorite is the Green Lifestyle washable underpads. These pads are made from human-grade, super-absorbent material and come in several sizes and multipacks.
The pads are quilted for comfort, are leak-proof, and have a waterproof backing. These pads can soak up lots of pee, making them ideal for large adult dogs and puppies.
Do you use regular or washable pee pads for your furry friend? Tell us why in the comments box below.