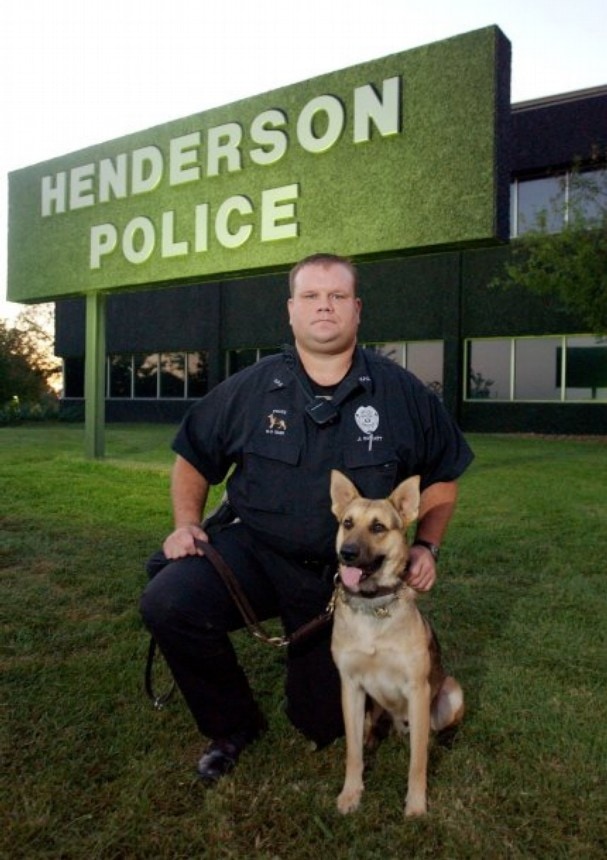 Every night when Kentucky police officer Jason Hargitt gets ready to go to work, his partner Santo knows, and gets pumped up to begin their shift together.
"He would get so excited.  He would hear that shower come on and there he goes, running down the hall," said Cammie, Jason's wife.  "That's what he lives to do."
Santo has been working as a police dog for the last nine years.  He's had a lucrative career sniffing out criminals and drugs, and at the ripe old age of 11, the recently retired German shepherd can spend the rest of his days taking it easy.
"He's a lazy dog now," said Jason "He's earned the right to lay around and be a dog and chase birds and squirrels."
As a working dog, he was never allowed to chase rabbits, even off the job.  It would be all too easy for a dangerous delinquent to get away if Santo were to lose focus after spotting an animal to chase.  But leaving the job isn't as easy as just staying home.  While Santo enjoys lounging around and playing, he'd much rather be at work.
"Every night when I go to work he goes to the door and cries," Jason said.
Cammie says it happens every night, remarking that he cries for about 30 minutes after her husband leaves.  She dotes on Santo a little more to distract him.
The Hargitts' five-year-old daughter Caeson calls his retirement "heartbreaking."  Though he has always been a sweetie at home, Santo loves nothing more than being a police dog.  He was personally selected by Jason to be the department's new K9.  Originally from the Netherlands, the then two-year-old had only been in the US for three days when he was chosen.
The only training Santo ever had up until then was having been housebroken and being an avid participant in tug-of-war.  Jason and his new partner spent eight weeks in a positive training course for Santo to become a dual-purpose police dog.  He specialized in narcotics detection and patrol work, which consists of tracking people down, discovering suspects in hidden places, finding evidence and protecting his handler.  But the learning didn't end when the official courses were over.
"When he was working, I did something every single day with him to reinforce the training," Jason explained.  "He was on the streets for nine years and I trained him for nine years.  Every day we worked we did something that was training-related."
The training paid off.  Santo had a lucrative nine-year career.  He has located drugs in all sorts of places, from vehicle steering wheels and tires to inside house walls and water heaters.
"In his nine years, he had over $500,000 in narcotics seizures, including the recovery of drugs, money, vehicles and property," Jason said.  "A well-trained drug dog is one of the few things the police department can buy that actually makes money.  He's paid for himself 10 times over."
He has stopped a number of felons on the lam.  He even once found someone hiding in the ceiling ductwork of a business.  As part of his apprehension duties, Santo has bitten about two dozen people who did not stop for police, even when warned that he would be sent after them if they did not comply.  Jason says a suspect has no one to blame but himself if this happens.
"I gave him ample opportunity to surrender peacefully and if he does not, the dog will be used."
Usually people think twice about trying to escape, Cammie says.
"They hear his bark and know what comes after that," she said.  "If he gets a hold of them, they're in trouble."
But Santo isn't an aggressive dog – he is only vicious on Jason's command.  The Hargitts do not worry about him being around their young daughters.  When each of the girls were born, Jason brought home a blanket they had used to allow Santo to become familiar with their scents.  By the time the newborns were brought home, Santo "knew they were a part of our pack," according to Jason.  Santo gave Caeson, whom he has grown especially protective of, a lick of approval when they first met.
"He's been my guard dog since the first day I came home from the hospital," she said.  "He loves me more than anybody," to which Cammie added, "except for Dad."
Which is why Santo's retirement is somewhat depressing.  He and Jason are not just partners, but family members, and friends.  But he has put in more work time than most dogs.  At 72 pounds, he is smaller than many German shepherds, which has lengthened his potential lifespan and given him a longer career.
In order to keep up with the demands of their exhilarating work, police dogs must be in peak condition.  They must be recertified every year by an impartial agency with no connection to the dogs, handlers or police department.  Santo always passes, but now well into in his golden years, his stride has become a little sluggish.
"I could tell he was slowing down.  He would still do everything I told him to do but it would take longer for him to recover," Jason said.  "I felt like I had an obligation to him.  He's given the city nine good years of his life."
"When he was working, I spent more time with him than with anybody else in my family," said Jason, who still occasionally catches himself glancing at the cruiser's rearview mirror, thinking he'll see Santo in its reflection. "The car is definitely a lot quieter."
Though the retirement hasn't been easy, it is well-deserved.
"It's truly amazing to see what he can do.  He's solved crimes in Henderson … that never would have been solved without him," Jason said.  "It's the best job in law enforcement.  You get to work with your best friend every day and he gives you 110 percent."
Those rewarding days are over, but Jason is happy for his dog's sake.
"Now he's relaxed.  Now he's allowed to be a dog.  He's no longer a working dog; he's a pet.  I can just let him enjoy himself."