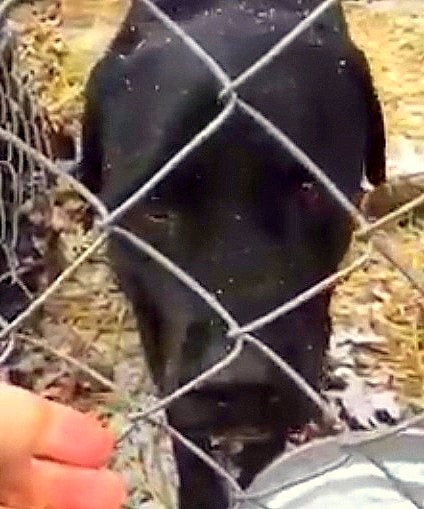 Spirit has spent the last six years living outdoors in a filthy, cramped kennel in New York, where summers are scorching hot and winters are painfully, dangerously cold.  He had no love, no interaction.  His spirit was thought to be broken, but all it took was being saved by Guardians of Rescue for this boy to smile again!
"He has never been in a house, a car or even [on] a short walk," the Facebook page reads.  "When the Guardians arrived he had no food, a frozen water bowl and [he] was very cold!"
The Guardians work tirelessly every winter to save dogs from the treacherous deaths they doubtlessly face.
"We have been out in force helping these dogs get through single digit temperatures. Thirty minutes of exposed skin a human would have gotten frostbite last night! In New York many dogs will not have a chance!"
The day after their first visit, the Guardians came back, and this time Spirit's owner surrendered him to them.  (The video mentions December 7th, but he meant January 7th.)  Now Spirit is free, warm, and looking for a home.  If you would like to adopt him, CLICK HERE.
You might not be able to personally save dogs like Spirit.  But you can help the Guardians do it.  Every donation means another bale of hay, a dog house, or food for the dogs whose owners refuse to bring them inside or surrender them, and insulated houses for the feral kitties.  Together we save them.
Please CLICK HERE to donate.