This bonded pair of best friends are seeking a new home – together.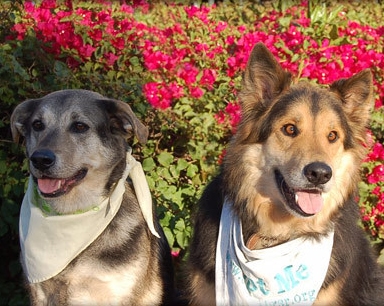 From their former owner: Raven was born in an animal shelter. She was born blind and adopted out from the county animal shelter to people who apparently did not care about her, because she was found a year later frantically wandering next to a freeway. Her I.D. was checked, and her owners called, but they did not want to her. They gave permission for her to be euthanized.
The county shelter called Coastal German Shepherd Rescue, because she was too sweet to let die. That's when I saw her in front of Petco at a Coastal German Shepherd Rescue event. It was love at first sight. She is the most beautiful, sweet, loving dog I have ever seen. My husband and I adopted her, and she quickly became part of our family, with our other dog Dunkan(whose story I'll tell in a moment).
Raven loves to be hugged and kissed and loved on. She is always happy to see you and she loves people. She gets along fine with her disability. She is just like any other dog. She just needs to be with a buddy to play with all day, so that she'll feel safe. That happens to be Dunkan, our other dog.
He was found as a small puppy, by my sister, on a hot summer day in a parking lot. He was hungry and thirsty, and very sad. We adopted him and he became like our child. He is very, very smart, active, and funny. He has a very playful personality and he loves people, especially children. I love them both with all of my heart.
That is why it breaks my heart that my husband and I have to find a new loving home for them both. We do not have a choice right now. We would keep them forever if we could. That was our plan. My hope is to find people that will love them as much as we do.
Raven needs lots of love. She craves it and drinks it in. Dunkan needs somebody to love him and take care of him, so that he can continue to watch over Raven, his companion. My heart is truly broken, but I know that out there somewhere is somebody who is looking for dogs like them.
They are what the phrase , 'a man's best friend', was describing. They are sweet, loving and playful.
If you are interested in meeting me, please contact Beth via email at [email protected]. More information can be found in their Petfinder listing. Don't forget to fill out our online application.