Sami Stoner has never won a race, but the Lexington, Ohio student is winning over fans and making history in the process.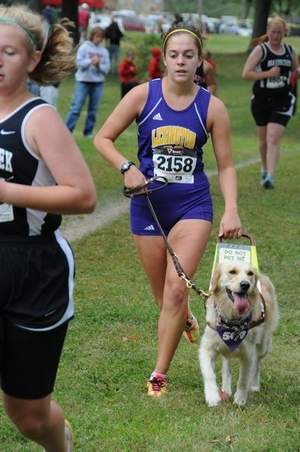 The legally blind teen is running for the Lexington High School girls cross country team, and she is believed to be the first school athlete in Ohio to compete with a guide dog. As remarkable an accomplishment as that is, it almost wasn't allowed to happen.
"How could anyone in cross country complain when you look at what she is doing? It's powerful stuff," Lexington head coach Denise Benson said.
Benson is alluding to Stoner's struggle to get the Ohio High School Athletic Association to grant her a waiver that would allow her to compete with her guide dog, Chloe. Lexington Athletic Director John Harris took a special interest in Stoner's plight and locked horns with the OHSAA over the course of months, making phone calls, applications and appeals that would ultimately secure the conditional waiver she required in order to run. From there, it was just a matter of training.
Stoner is afflicted with Stargardt disease, a juvenile form of macular degeneration that rendered her legally blind by ninth grade. Shortly thereafter Chloe came into her life. The guide dog is a graduate of  Pilot Dogs, an non-profit organization that has been training guide dogs since 1950. When the two hit the trails, Chloe steers Stoner around obstacles while the teen uses what is left of her waning peripheral vision to watch for other runners. It's a combination that works: while they have not yet won any races, Sami and Chloe passed seven runners on the course at Marshall Park in late September to the cheers of inspired fans.
As amazing as that may be, Stoner admits that she and Chloe still have some learning to do together. "We're just hoping to keep on racing and hopefully keep breaking our times. We're just trying to do our best. Hopefully, next season we can just keep getting better," she said.
Sami's father, Keith Stoner, said he's grateful to those who worked with OHSAA to give his daughter a chance at pursuing a dream. "It's a great message," he said. "She's never going to be up front getting a medal, but as far as my wife and I are concerned, she wins every race. I'm thankful that puppy was brought into our lives."