A Montgomery, Alabama police K-9 was not expected to survive after being wounded by three gun shots to the face, but veterinarians say that Bodi will recover – and that he will regain the use of his remaining eye.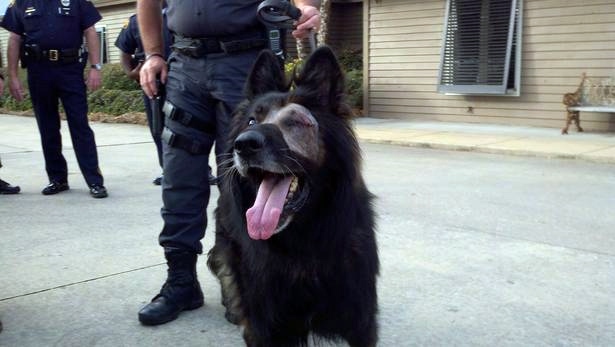 The dog was wounded in the line of duty on Wednesday while attempting to apprehend an armed robbery suspect. He was blinded in one eye and was thought to have lost sight in the other after three shots fired in close proximity tore into his skull. Veterinarians removed his left eye, and say that they were pleasantly surprised to learn that he would regain vision in the right eye. Full recovery is expected to take two weeks.
Bodi will remain in the care of  vets until early next week, when he will go home to live with his handler. The 11-year-old German Shepherd will be honorably retired. The Montgomery Police Department is covering Bodi's medical bills, but they are accepting donations from anyone wishing to help with Bodi's veterinary expenses. Visit their website for contact information.
Sadly, at the time of the shooting, Bodi was only three weeks away from retirement.