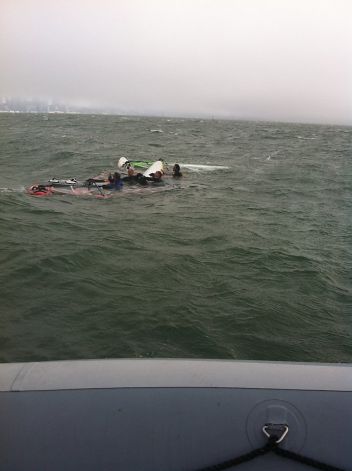 Adam Cohen takes a different way than how many of us to and from work each day – he goes by boat. Making his commute from San Francisco home to Berkeley in a motorized inflatable boat even more strange on Monday was his rescue of a dog from the middle of the bay.
Cohen was heading across the bay with a co-worker when he spotted five windsurfers with their sails down two to three miles out from the shore. Worried there might be trouble, Cohen made his way over to the group.
The windsurfers were bunched around a dog they had on one of their boards. One of them was on a two-way radio with the Coast Guard, trying to get them to come help.
"She was way out there." Cohen said. "It looked like she was trying to swim to Angel Island."
He offered to take the dog, which looks like a black Lab-pit bull mix, to his home, and to the
Berkeley-East Bay Humane Society the next day. It took some time to maneuver the craft in the choppy water, but he was able to get her on board. She was trembling and disoriented.
"She was shivering and wet and very shy," said Cohen's wife, Lisa Grodin.
It is unknown how long she was in the cold water, but after spending a couple hours at their home, wrapped in a blanket, she began to perk up.
"She's the sweetest, sweetest thing…. She slept for hours and then she ate and then she was on the mend," Grodin said.
Cohen took her to the humane society to see if she had a microchip or had been reported missing, but she had neither.
"My wife says we should keep her," Cohen said.
Which is exactly what they might do if she is not claimed by her rightful owner. However, if she has been abandoned, the owner is not likely to claim her anyway.