A South Carolina animal control officer went above and beyond her call of duty when she spent two hours following an SUV that had a dog strapped outside of it.
Nicole Hubbard and her boyfriend were driving along the I-95 in Georgia when they noticed an airline crate attached to the cargo holder of a Dodge Durango.
"We were riding back from a family vacation," Hubbard said. "We thought, 'Surely, they don't have a dog in the back of it.' But when we got up next to it, there the dog was."
A beagle mix was inside the crate, which was positioned directly behind the tailpipe, sending exhaust right through the carrier. Hubbard noticed there was no water container for the pup (which probably would have sloshed around anyway).

With it being 94 degrees out, she was concerned that the dog could become very ill from the heat and exhaust, not to mention the anxiety of being in a crate on the outside of a vehicle. Though it appeared securely rigged with bungee cords, a bad bump could have knocked the carrier off and into the path of another vehicle.
She immediately informed highway patrol, who told her an officer would be dispatched to pull the vehicle over.
"We stayed behind them, and no officer ever came," she said.
She called again, but this time was told police couldn't respond.
"They said they just don't have an officer to send," Hubbard said.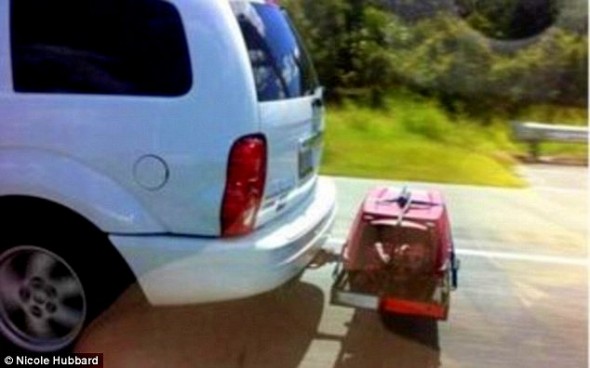 The couple continued to follow the SUV for about two hours, until they crossed the South Carolina border. She called the SC highway patrol, who showed greater concern for the situation.
"They were wonderful," Hubbard said.
An operator kept her on the line until a trooper could be sent to the area. Finally, the SUV was pulled over. Hubbard does not know if the driver was issued a summons. It is unlikely that what was done would legally be considered animal cruelty, but it certainly falls under the definition of stupidity.
Hubbard said keeping a dog in a crate by an exhaust pipe with no water on such a hot day was unacceptable.  There wasn't even enough room for the dog to turn around inside.

"I was just amazed that somebody could be that uneducated of the dangers with that dog being there," she said. "Hopefully, they learned something from it."