On Wednesday, a man responsible for abandoning a starving a dog for a month was banned from owning animals for seven years.
Bodey was discovered after housing officers entered at a flat in Eckington Walk, Mansfield to carry out an eviction order. The RSPCA rushed him to a local vet for treatment, but he was not expected to survive – Bodey was comatose and was only 25 pounds when found.
Former owner Jonathan Pearce was sentenced to 150 hours of public service and ordered to pay £250 costs in addition to the ban.
RSPCA officer Keith Ellis says that Bodey's comeback has been a miracle to witness.
"This was the closet to death dog I have come across; he was just hours from the point of death. He was extremely dehydrated and totally emaciated, all his bones were visible. I was horrified and angry when I found him; there is just no excuse for an animal to be allowed to suffer in this way."
"I am amazed that he survived," he continued.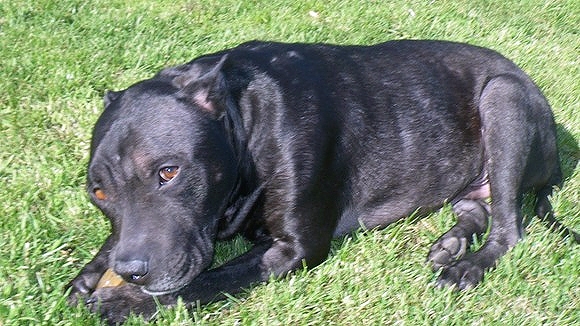 "Now he is with a loving new family and living the life that he deserves, but he should not have been allowed to get in this state. I would really like to thank the veterinary staff who did so much to save him," he said.