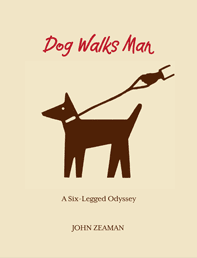 Another great looking dog book has arrived, and before I get tempted to crack it open for a peek and keep it, one of you will have a chance to win it.
Dog Walks Man is a memoir about the plain and metaphysical joys of a simple daily duty shared by tens of millions. It could be titled Zen and the Art of Dog Walking, or, to turn it around, Art and the Zen of Dog Walking, since Zeaman is an art critic and what he sees on walks is often informed by the landscape paintings that he loves.
Humorous, thought-provoking, and playful, Dog Walks Man takes you on a journey from a round-the-block fraternity of "dog-walking dupes"—suburban fathers who indulged their children's wish for a dog—to a strange and forbidden wilderness at the edge of town, the New Jersey Meadowlands. Along the way, he rediscovers childhood's forgotten "fringe places," investigates the mysteries of the natural world, and experiences moments of inexplicable joy at the sight of his dog running across an open meadow.
Above all, Dog Walks Man is about a search for wholeness in an increasingly artificial world. It is about discovering what Thoreau meant when he wrote, in his seminal essay Walking, "Life consists with wildness." Because the truth is, something as simple as walking the dog can open up unexpected worlds.
John Zeaman thinks you'll like his book so much that he wanted one of our readers to win a complimentary copy, and we'll make it easy for you to take a shot at it. Regulars know the deal, but if this is your first time participating in one of our giveaways, you can enter by signing up here in about five seconds. Watch for our daily digest e-mail to hit your inbox, and reply with the words "enter me" in the subject. It's that easy.
Entries are accepted for 24 hours from the time the post publishes, so if you're just signing up now you should still have a chance to enter tomorrow.
Ok, enough with the rules – on to the fun – make sure you get those entries in, and as always…good luck!