A captivating tale of rambunctious, quirky and loving dogs, told with tenderness and respect.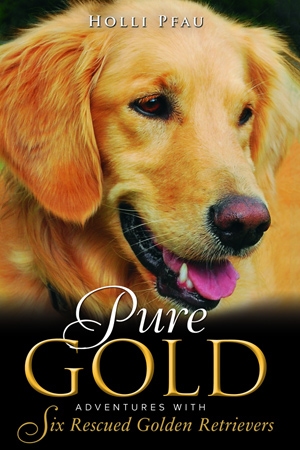 One by one they arrived on the doorstep, each dog burdened with issues and baggage. Bodie needed eye surgery; Tucker needed two new hips; Sophie feared the world; Daisy and Chatter brought seemingly endless behavior and training issues. Only Nikki arrived as perfect as a dog could be. She was the first and paved the way for the others.
Rescued from abandonment, neglect, unhappy owners, shelters and possible euthanasia, each of the dogs in Pure Gold led Holli Pfau down paths she never would have found without them. A new career, wilderness adventures, relocation to the Rocky Mountains, agility and obedience competition – each was initiated by a dog.
Inspired by the efforts of Golden Retriever Rescue, Holli has dedicated this memoir of life with her beloved goldens to rescue volunteers and the animals they save. It's a heartfelt journey alongside the serious, quirky, loving and rambunctious dogs that enriched and transformed her life. Her goal is to donate $100,000 to shelters, humane societies and rescue groups across the country.
[dcs_head top="0″ color="#666666″] [/dcs_head]
How to Enter
Today's giveaway winner will receive a free copy of Pure Gold by mail. As always, only those in our e-mail list are eligible to enter, and if you're not subscribed, you can fix that in five seconds by clicking here. When your first daily digest e-mail arrives, hit reply, type the words "contest entry" in the subject and send (current subscribers can reply to today's digest). Only one entry per e-mail address please: those attempting to game the system with multiple entries will be disqualified.
We'll use randomizer.org to select winners, who will be notified by e-mail. Entries will be accepted through midnight Wednesday: please note that the sponsor of this giveaway has specified that the contest is open to residents of the US and Canada only.
As always, good luck! 🙂