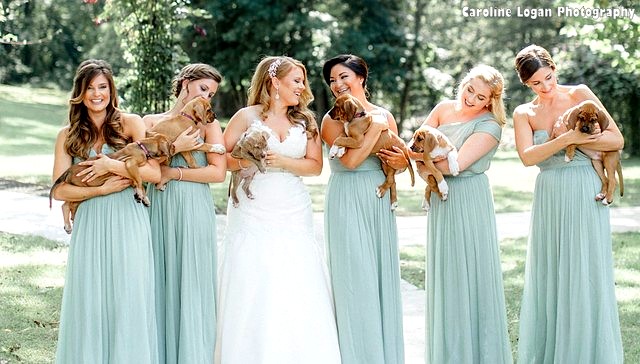 Wedding flowers cost a fortune and they wilt in a couple of days.  But a rescue dog costs about the same and lasts for years!  So when an animal rescuer recently tied the knot, she opted to do something really unique for her photos and had the bridesmaids and groomsmen pose with some adorable rescue pups instead!
Sarah Mallouk Crain works for the Pennsylvania-based rescue group Pitties.Love.Peace.  Her husband Matt also has a soft spot for animals, and together they have three rescue dogs and usually a foster.  So it only seemed right that dogs should play an important role in their nuptials.
"Having the puppies involved in the wedding brought so much additional joy to Matt and Sarah's day," photographer Caroline Logan told The Dodo. "Though they weren't a part of the ceremony, they were involved in their portrait time."
Biggie Smalls, held by the bride, is a nine-week-old pit bull mix found on the streets of Brooklyn.  The other five puppies, eight-week-old boxer/coonhounds are called Martha, Abigail, Dolley, Elizabeth, and Louisa, after the first first ladies.
"The puppies of course caused the photos to be extra natural, candid, and carefree — exactly what I strive for in my work," Logan explained. "The wedding party was loving all the puppy snuggles."
There was no problem getting smiles out of everyone with all these cute and well-behaved puppies on the scene.  They are all available for adoption, and if you're interested, please click here to fill out an application.