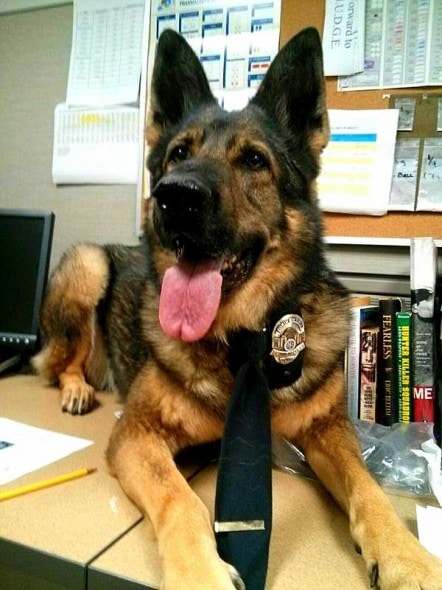 The Escondido Police Department recently took to Facebook and Twitter to announce that one of their officers had been promoted to detective.  This isn't particularly newsworthy, except that this officer is a dog, and she's the first to ever receive such a promotion in their department!
"The decision was made to promote Jena to detective where her skills could be used to assist detectives with narcotic interdiction and she would not be subject to the physical demands of a patrol service dog," a statement read.
Eight-year-old Jena has been serving as a patrol dog in the California city since 2010.  She has worked on over a thousand crime scenes and has located drugs on nearly a hundred suspects.
"She's not our only drug dog, but she's probably one of the most successful drug dogs we've had," said Lieutenant Eric Skaja.
Many police dogs are retired after only five or six years of work, especially German shepherds, whose hips and legs are prone to deterioration.  But Jena is still in her prime and loves working.  So she was recently promoted to detective – the first Escondido K-9 to ever do so.
Patrol dogs are often out in the field or training, which means that they aren't always available when detectives need their assistance.
"Canines train all the time, at least once a week," Skaja said. "Can you imagine having one of your employees gone 25 percent of the time?"
Now she can be on hand when the department needs her.  What's even better is that her handler was also made a detective, so they'll be able to stay together, which is highly important for both of their mental health.
When she's not on a case, "she's going to hang out," Skaja said.  "This is what Jena loves to do."