Smiley, a black and white small dog from Moldova (Easter Europe), was a stray dog who survived as she could on the streets, until one day she got injured and lost one of her legs. In this remote country without animal protection laws, a stray dog's chances of survival is minimal, now if the stray gets injured or loses a leg, surviving is just impossible. Thankfully, "Live Life" Dog Shelter rescued Smiley and now they are the dog's only chance at living life.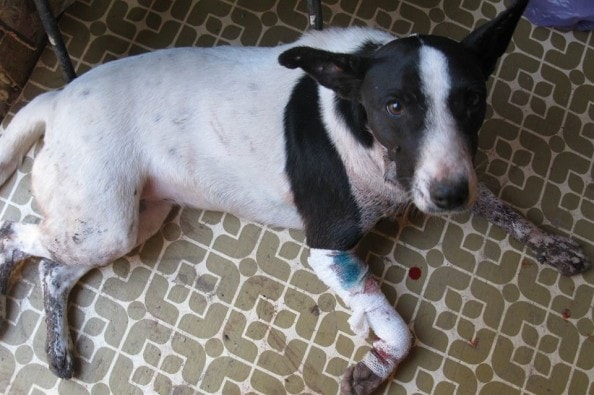 "You may not know this," said journalism student Natalia Donets, "but Moldova is the poorest country in Europe. We have a very severe problem with street dogs. They are routinely killed by government pest control services – either poisoned or have their heads smashed in."
When Smiley was initially found she was healthy. The shelter spayed her, vaccinated her and placed tags on her before releasing her back on the streets, but just days later she was found with an injury to her front right leg.
There wasn't much veterinarians could do to save her leg, and the best thing for her was to have the leg amputated. However, her survival chances on the streets now that she is a tripod are fewer. Shelter volunteers have fallen in love with this sweet pup and decided to offer her a place in the shelter. They hope to find her a forever home.
A forever home, that's the problem.
"Adoptions are almost nonexistent in Moldova," said Donets. "[Smiley] will be forced to spend her life in the shelter or be released in the streets, where she'd risk her life again."
Live Life Dog Shelter is a safe haven for hundreds of dogs. Right now they house more than 300 animals, even though they only have 20 kennels. The dogs only get one meal a day and those without a kennel sleep outside in the yard.
There is no animal protection law [in Moldova] and the only several dog shelters that exist live off donations," said Donets.
The shelter is run by Alga Moldavian Dog Rescue and in order to save Smiley's life along the many other animals they have, they are in need of donations. With funds they would be able to buy food, medication and building supplies to build more kennels for all dogs.
Click here if you're interested in helping Smiley. For more information about the shelter visit the Facebook page Alga Moldavian Stray Dog Adoption page.