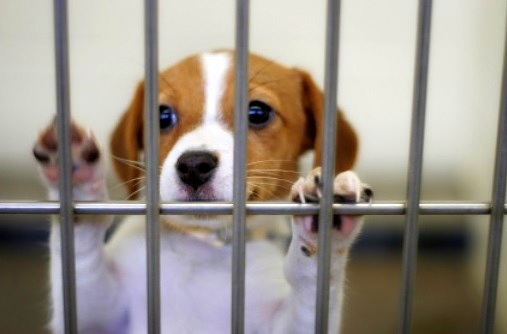 In a nearly unanimous decision (49-1), Chicago aldermen voted to ban pet stores from using dogs from for-profit breeders, i.e. puppy mills.  Now they will only be allowed to sell dogs, cats and rabbits that come from city and county shelters.
Chicago joins San Diego, Los Angeles and Phoenix and about 40 other major North American cities to ban the sale of commercially-bred pets. The law will go into effect next March, and pet store owners will face fines of $100 to $1,000 per day for not complying with the new law.
"We have a lot of important issues going on in the city with our schools and handling issues on the streets, but we can't turn a blind eye to the repeated abuse of animals," said Alderman Joe Moreno. "I am a proud co-sponsor of this bill and what it does is prevent terrible abuse going on every day in puppy mills. We end up with cute puppies that are sick, have diseases or are in bad condition."
"By banning the sales of dogs, cats and rabbits, we can cut the pipeline of animals coming from the horrendous puppy mill industry," said Chicago City Clerk Susana Mendoza, who sponsored the bill. "It moves us towards a retail pet sales model that focuses on adopting out the many, many homeless animals in need of loving homes in this city."
"Our goal has never been to put pet stores out of business," said Cari Meyers, founder and president of The Puppy Mill Project. "We would like to work with the stores to help them find an adoption model that fits. This will not only save the lives of thousands of pets facing euthanasia, it will stop stores from supporting the systemic, large-scale cruelty that is the basis of puppy mills."
Thankfully, not all pet shop owners make their living from the abuse and over-breeding of dogs they keep cramped in wire-floored cages, let to suffer in their own waste.
"In a city like Chicago, the pet population is out of control. To reduce another living thing to a commodity for profit is a terrible shame," sad Rich Forsythe of Ruff Haus Pets, whose family includes a rescued dog and two rescued cats. "When I opened my pet store, I wanted to be part of the community and supporting rescue is a big part of it. I've never sold pets and I wouldn't want it any other way."
Some shop owners are displeased with the change, and feel they will be forced to close down or move to the suburbs so they can continue to rake in money selling sickly puppies from sickly, mistreated mothers.
"If you don't want to change your way of doing business, I will not lose a wink of sleep knowing that we've put a bad business out of business in this city," Mendoza said.