Alejandro Challapa was walking his dog Kiko in Tarapacá, Chile, when the pet fell down a ravine and became stuck. The 74-year-old man panicked when he couldn't rescue his best friend, but he soon found help in animal lovers and police officers who came to the dog's rescue.
Challapa tried to rescue Kiko but when he realized he was not able to safely descend 49 feet to reach the pet, he jumped in his car and rushed over to a nearby border patrol station in Cancosa.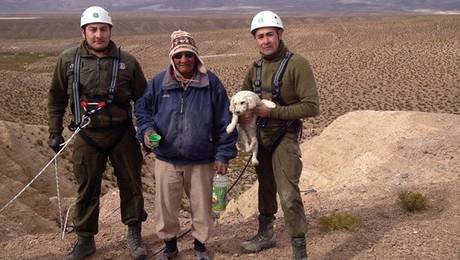 There, Challapa informed officers of the accident and the officers agreed to come back with the worried dog owner and bring along mountain hiking equipment to retrieve Kiko.
The officers used the police squad car to secure the rope they used to descend the ravine. The hero rescuers realized Kiko was trapped. The dog's legs were stuck in between some rocks, but with some gentle tugging and pulling, officers were able to free the scared pup.
Challapa was relieved to see his pet once the officers climbed back to the top of the ravine.
Kiko did not suffer any injuries.