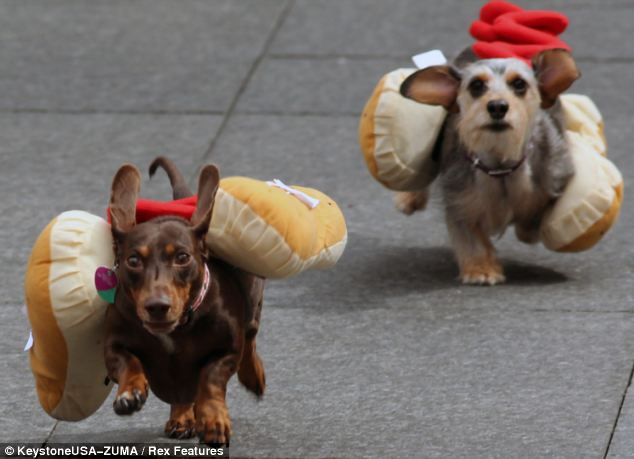 Cincinnati has a unique way to celebrate the start of Oktoberfest. This past Friday, the 6th annual "Running of the Weiners" dog race was held. Dachshunds dressed up in hot dog costumes and raced 75 feet in front of a crowd of spectators.
Each Dachshund is dressed in a hot dog bun costume that is provided by the organizers of the event. The dogs run 75 feet to the finish line where owners are waiting to greet their dog. There were around 100 Dachshunds entered in this year's race. The race runs heats and then a final. Not all the dogs make it across the finish line, as some are seen running back to the starting block. The winner this year was Sammy, a two-year-old Dachshund who ran the 75 feet in 3.97 seconds. Second place went to Freddie and third place to Buster.
The "Running of the Weiners" is the kick off event for Oktobefest Zinzinnati, which is America's largest Oktoberfest celebration. Over 500,000 people attend the Cincinnati celebration each year. The original Oktoberfest goes on in Munich, Germany. There they kick off the celebration with the mayor tapping a keg of beer. Cincinnati's ceremony is a little more adorable. The cost to enter your weiner dog in the competition is 25 dollars, which covers a bun costume for your dog and a t-shirt for you. A portion of the proceeds also go to a Dachshund rescue charity.