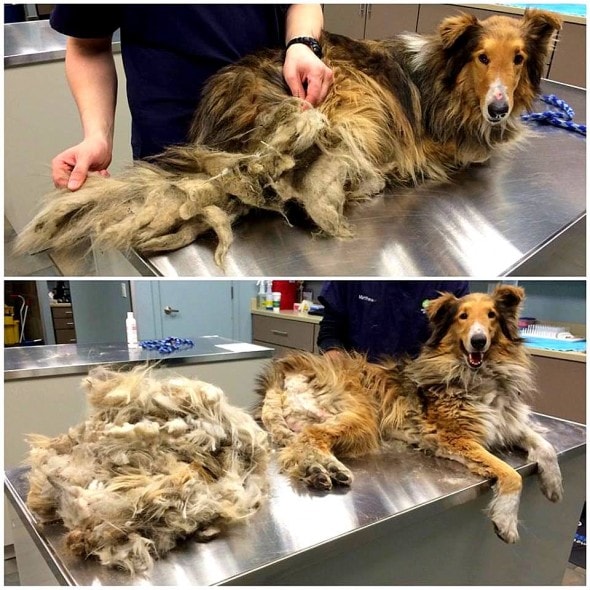 The Trio Animal Foundation in Chicago sees many awful cases of abuse and neglect, but rarely have they seen a dog as badly matted as Freight.  He had been living in a rail yard for more than a month, but his neglect goes back much further.  He was so matted that he could barely walk, let alone relieve himself.  Freight was a painful mess, but thankfully he was saved, and is now receiving some awesome care.
This comes from Trio Animal Foundation:
TAF was contacted about a stray dog that had been living in a railroad yard for over a month. Lucky for this pup, there were some pretty special people that had been trying to catch him and had been leaving food out for him. Today was the day that all of their efforts paid off and this boy was safely trapped.
Once TAF picked him up we took him to our vet where he began his medical treatment and stray hold. It took shaving the pup's bottom down to be able to figure out if we were dealing with a male or female dog. The burrs, dried feces, urine, twigs, dirt, etc., that were matted into the tangled fur, made it impossible to see any anatomy.
When his medical team started to shave him more and more, sores started to appear under his matted fur. Some were from where the matted fur had been pulling his skin so tightly under his legs and others were from the trapped urine and feces against his skin… the smell coming out of the different layers of matted fur was pretty horrific.
Once we were able to get all of his majorly matted fur shaved off, he was given a medicated bath and soaked for 10 minutes. The water coming off of his body turned into a thick muddy paste. Even after the 10 minute time frame, he still had mud stuck in his fur. He needed a break so he will be further groomed once he has rested.
Even though this boy is technically a stray, we are going provide him with the best medical care possible. We would hope that somebody would do the same for one of our dogs. If nobody comes to claim him, he will be put in TAF's adoption program.
While in our care, we have decided to call him Freight. Freight is a neutered male Collie and is believed to be around 3 years old. We will have further medical info once his blood work comes back.
An update a few days later read:
WE HAVE SOME BAD NEWS… FREIGHT HAS TESTED POSITIVE FOR HEARTWORM.
This is so incredibly sad, as, like many of our other medical cases right now, it could have been prevented.
Freight is still at the vet and has already started treatment for parasites, including tapeworm. Today he will be vaccinated and we will be starting his heartworm treatment once we know what medical protocol will work best for him.
Freight's stray hold is up tonight and his owners have not come forward. If nothing changes, he will legally be taken into TAF's medical program.
If you would like to help sponsor Freight's medical care, please consider making a donation at www.trioanimalfoundation.org. You can earmark your donation "Freight." If you are making a donation via a smartphone and are not given the opportunity to earmark your donation, please forward your receipt confirmation to [email protected].
Even though his previous owners never came for him, we believe that he is in a better place… and that is a good thing.
Freight will likely be up for adoption soon.  If you live in the Chicago area and would like to adopt him or any of the other wonderful animals they have saved, check out TAF's Facebook page.