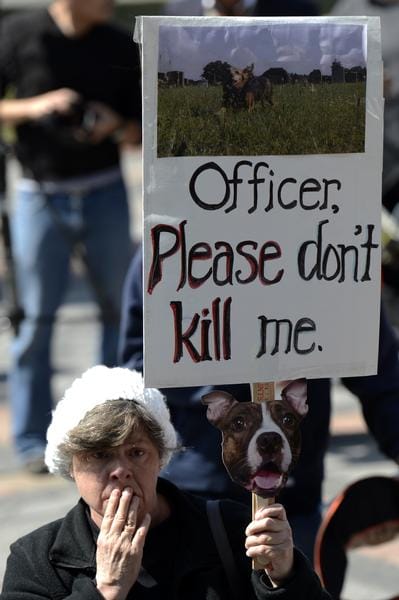 Newspapers littered with stories of police officers shooting innocent dogs have outraged many dog lovers, but now there is reason to rejoice:  a Colorado senate committee has unanimously passed a bill that aims to limit these kinds of tragedies.
Senate bill 226, dubbed the "Don't Shoot My Dog" bill, will require police and sheriff departments to provide online training courses for officers and deputies so they can learn to understand dog behaviors and recognize body language.  This will allow them to better determine if a dog poses a threat and to control dogs using nonlethal means.
The hearing before the Senate Judiciary Committee was preceded by a rally on the Capitol steps.  Supporters cheered and blasted the song "Who Let the Dogs Out?"  Sponsors of the bill, Senators Lucia Guzman (D-Denver) and David Balmer (R-Centennial), were among those who brought their dogs to the rally.  Signs were held bearing the messages "Protect our Furr-kids" and "Pro dogs, pro cops, pro 226."
At the rally Balmer asked, "Why do we have slobber marks all over the sliding glass doors?" and "Why do we say yes to whatever the vet says it will cost for a procedure?" and "Why have we spent so much time writing this bill?"
The answer, which crowd members chanted, was "Because we love our dogs."
The atmosphere turned somber when a weepy Brittany Moore spoke about how a police officer killed her dog, Ava, and how painful it has been for her daughters, who were five, six and seven at the time.  She believes this bill, had it been in place earlier, might have saved her German shepherd.  The officer might have understood that Ava, who was shot in the back, was not a threat.
"The only threat was an officer discharging his weapon," Moore said.