On one of the coldest nights this winter, someone in Cincinnati abandoned a pit bull with a broken femur.  Thankfully, he made his way onto the porch of Robert Inman, who teamed up with dozens of people to raise the money needed for Blue's medical care.  Now that he's had surgery, he is in need of a home.
"It was the coldest night of the month – it was about nine degrees," Robert Inman began explaining to WCPO.  "Saw that there was a pit bull freezing to death – couldn't move, couldn't walk – on our back porch."
The dog, named Blue, had a broken femur and needed some dental work from prior injuries.  He also appears to have scars on his face that are suspiciously cigarette burn-shaped.
"We took him in and tracked down where he came from. He was returned to his family but they could not afford him any medical attention," Inman posted on Facebook.  "One week later I followed up and the man said since he couldn't pay the dog was going to be killed."
But that was not an acceptable answer for this rescuer.
"I'm a vegan anarchist with a very strong belief in animal liberation, so any opportunity to help innocent animal life is the core of my life philosophy."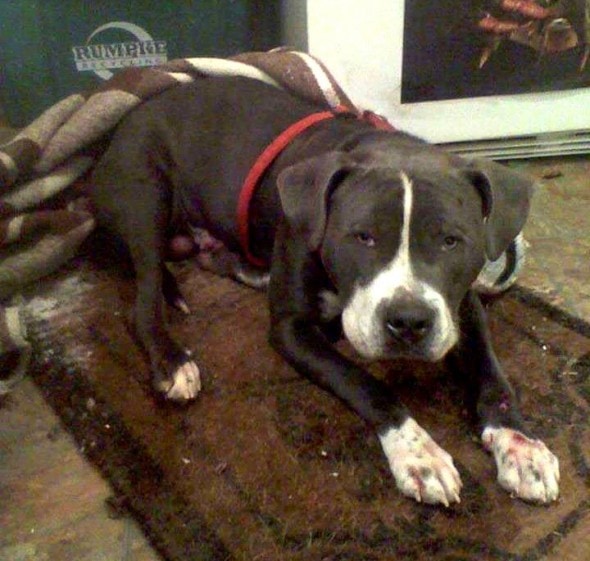 Inman owns a record label called REALICIDE, and through that found about 50 people to help him raise the funds needed for surgery on Blue's leg, as well as dental repairs and neutering.  So far they've amassed approximately $1,300, and in the meantime, began thinking of new names for the dog.
"His name was Blue, but we think Grey Matter might be a suitable name, too, because it implies a lot of brains – and he's got a pretty big head."
Inman has gotten Grey Matter/Blue into the care of the I Have a Dream Rescue Organization, and on Wednesday the one-year-old pup underwent surgery on his femur at Noah's Ark Animal Clinic.  He'll be spending the weekend with the rescue group, and then moving on to a foster home.  But the search is on for a permanent arrangement.
"Despite his broken leg he is very energetic and friendly. His temperament with humans is excellent, and we have not seen evidence of aggression towards other animals (tho we've only seen him around dogs at the vet so far)," Inman posted.  "Blue needs some discipline, and is a bit malnourished, but at his age he is more than capable of being a perfectly social creature, and with luck a creature with all 4 working legs before long."
Inman wishes he could keep him, but has a very busy work schedule, and would not be able to give Blue/Grey Matter all the attention he deserves.
"Anybody who ends up being the forever home… is going to be a lucky family… I can guarantee it."
If you would like to help with his care, you may send a donation via PayPal to [email protected] or through IHADRO.  If you would like to adopt him, please CLICK HERE.