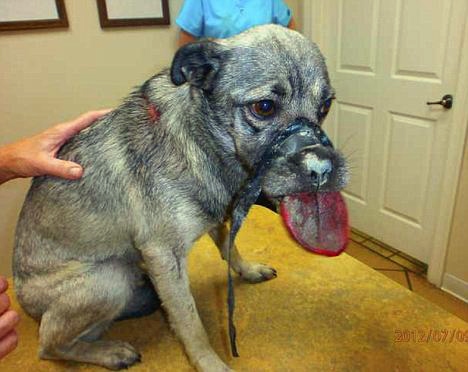 A tormented pug-mix found Monday in Parker County, Texas with electrical tape wrapped around her snout and her tongue swollen and protruding continues to improve by the day. Hope began to eat and drink again, and vets say the sweet dog is expected to make a full recovery.
Update (7/13/12): Hope has a new family. According to Parker County Sheriff Larry Fowler, area residents Charlie and Kit Moncrief have adopted her. She will go home with them once she is released by veterinarian who is treating her.
"I have known the Moncrief family for many, many years," Sheriff Fowler said. "I can't think of a better family for Hope to belong to. She will think she is in heaven at her new home with her new family."
end update
"It was horrific. Her mouth was so gross it was awful," said Melanie Labrake, who first found the dog. "She walked by me and she just looked up at me like, 'Help me,' and I thought, 'I don't even know what's wrong with you,' but that's her tongue."
Bowie Drive Animal Hospital veterinary technician Rhonda Sears said she can't begin to fathom the motivation behind causing this level of suffering to a sweet, innocent animal.
"She was somebody's trash on Sunday and she's everybody's treasure today," Sears said. "Her story is not over. This is just a short chapter. She's going to have a happy ending," she said.
A reward of $1000 for information leading to an arrest has grown to $35,000 after concerned citizens donated in droves in an attempt to help identify the perpetrator. Sheriff's deputies continue their search for the person or persons responsible for torturing Hope.
"This is horrendous," said Larry Fowler, Parker County Sheriff. "I can't imagine what would bring a person to such an evil act. We are fortunate to have found her when we did. Our investigators have seen some pretty terrible things in their careers, but this case is deeply disturbing and leaves us shocked."
Anyone with information about Hope is asked to call the Parker County Sheriff's Department at 817-596-8845, or the Parker County Crime Stoppers Hotline at 817-599-5555.