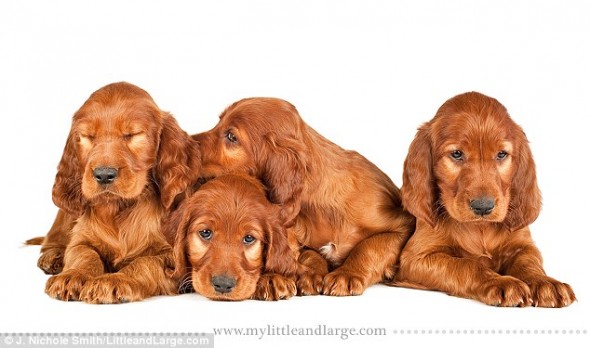 UK Based Pet photographer J Nichole Smith, who has been at it for ten years now, got pictures of 25 breeds of adopted puppies for her new book, Puppyhood.  The aim of the book is to show just how adorable, and different each dog can be at the same age.
J Nicole Smith, when asked, told MyModernMet that the 30 day project 'may have been the best assignment I've ever had!'
Ms. Smith said she used oversized 13 by 11 inch pages in the book so the photos would be true to size.
"All the puppies were photographed at six weeks of age," she said.
"The stipulation allowed us to use life-sized images of each pup, we wanted all of the puppies to be the same age.  This way, the dramatic differences in size from breed to breed would be emphasized," said Smith.
The idea is to show contrast.  A single six-week-old Yellow lab fits alone on the page.  This is to hopefully show how big he will grow up to be.
The pictures show a combination to pure-breeds and mixed-breeds, including Basset hounds, French bulldogs and Irish setters.
Some dogs are seen dozing lazily as they have their pictures taken, cuddling up to each other to make for an extra cute photo.  Others appear alert, and ready to have some fun.
A review of the book says, "…so sweet it'll cause cavities, this delightful marshmallow of a coffee table book compiles 100 shots of pure and mixed—breed puppies at actual life size of six weeks of age sleeping, curiously studying camera, playing and resting.  Those with a soft spot for puppies will have an awful time putting this one down, as each dog seems cuter, softer and sweeter than the one before."
According to Ms. Smith's website, she was inspired to do a pet photography studio in 2005 thanks to her own Great Dane pup, Olivia.
The introduction to the book explains, "Once you're near enough to feel the downy softness of their brand new fur, notice the perfect freshness of their plushy paws, or catch a peek at their bals, pink little bellies, you're probable in trouble," it reads.
Smith says, "These are the reasons this book exists, a tribute to every quality that makes any puppy an exceptional work of art."
The book is available on Amazon.
A direct link to Ms. Smith's website can be found here.