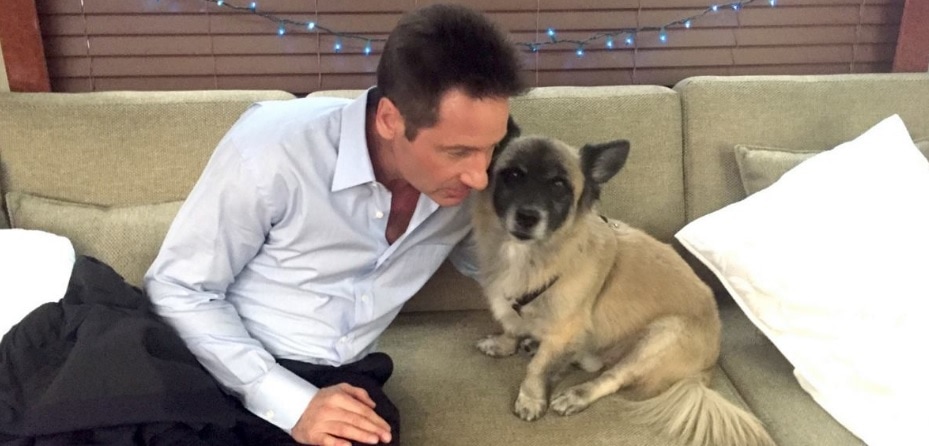 This week, David Duchovny has issued what's being called the Lick My Face campaign via a YouTube video.  He's calling people out to make videos of their dogs licking their faces, and with every lick, at least one dollar is being donated to charity.  He has promised his money to Target Zero.
Target Zero is a nonprofit that is dedicated to getting all shelters across the US to be no-kill.  They send folks into shelters and help instill practices that can both keep animals from being killed, and keep shelters viable.  In fact, they helped Waco, Texas to go from euthanizing almost 6,000 dogs and cats in 2012, to saving 90 percent of the animals in their shelter in 2015.
"What they do really works and it works fast," Duchovny told The Huffington Post in an interview.  "That's a lot of lives saved."
Target Zero has seen success just about everywhere they've been.  Many big cities like Baton Rouge, El Paso and Nashville have seen massive success, and now Target Zero is seeking further funding so that their mission can spread.
This is where the challenge comes in.  In the video he calls out fellow dog parents Gillian Anderson, whom he also costarred with in the X-Files, and his ex-wife Téa Leoni as well.
"They're both big animal lovers, so I'm pretty sure they'll jump right in," said Duchovny.  "I hope they get squeamish.  You can't not get squeamish when your dog has free rein to lick your entire face."
In fact, if you aren't too keen on letting you dog got bat-buts with the kisses, you can always just donate to the charity itself.  At least that's what he suggested when asked.
"I'd say, just go ahead and donate to the cause anyway because it's amazing, but I can attest to the fact that it's is a pretty fun thing to do, once you surrender to the messiness of it."
So, will you join in with Duchovny and the others, and make a video of you and your dog or dogs?  Or will you just go ahead and donate to the cause.  Either way, it's a great way to help make sure that shelter animals are given the best possible chance at a happy life with humans that love them.  You can find out more about the challenge, find out where to post your videos, or just make a donation, you can click here.