Rescue organization Dogs Deserve Better is no stranger to controversy, but recent allegations by the group's former national rescue coordinator may have far reaching implications in the long term health of the group.
Just a few short months after their acquisition of the former Michael Vick residence, a prior employee is questioning what she calls possible misappropriation of funds and a major shift in the organization's mission. Shannon Allen, the group's former national rescue coordinator, recently resigned over a number of concerns with DDB activities. "I don't agree, a lot of people don't agree with the rehab center, amount of money being spent there," says Allen.
Allen says the organization's founder, Tamira Thayne, told volunteers to stop rescuing needy dogs shortly after DDB relocated to the Virginia mansion formerly occupied by Michael Vick.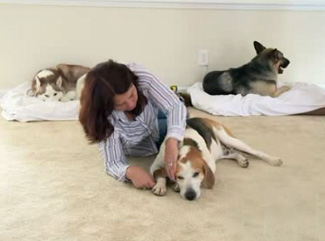 Allen says money from prior fundraising drives has gone missing, and she's also troubled by a new DDB policy: only dogs who pass personality screening tests will be considered for rescue by DDB. "The point of a rehab center is to help dogs that don't get along with other dogs and other people," says Allen.
Allen says her concerns are  shared by many: she says that a few months ago, Dogs Deserve Better had over 150 rescue representatives in the US. Now that number has dwindled to less than 25. "A lot of people left because when we bought this fenced center, we were told to stop rescuing, that we couldn't afford it anymore," says Allen. "We want to rescue, that's what we signed up for," she said.
We attempted to contact Tamira Thayne for a rebuttal and are awaiting response: if it's received you'll find it here shortly. In the meantime, Thayne has responded to Allen's allegations on her blog.