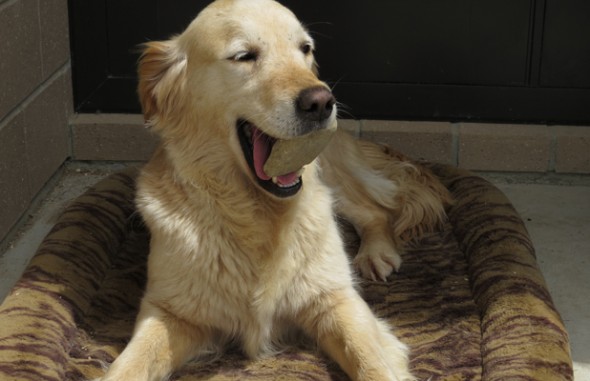 Detective Sergeant Rex Barnett had almost given up hope that his family's dog Ka Pai would be found. Police officers often find unexpected things when executing search warrants, but Barnett couldn't believe it when last week a search warrant led him to his family's missing dog.
Ka Pai and her puppy Cashew went missing on November 20th from the Barnett's home in North Canterbury, New Zealand. "We suspected they were chasing hares," said Barnett. Cashew came home just two days later. "On Thursday morning I got up to find Cashew standing at the back door. I thought the mother would be returning at any stage – but a week later she still hadn't turned up," Barnett said.
The Barnett's were hopeful that Ka Pai would be found. She was microchipped, they checked all the local shelters, put up flyers, and posted her on Facebook, but still no sign of Ka Pai.  "We hadn't totally given up hope but it was causing considerable stress in our family. Ka Pai had been with us since she was a pup and she is now six years old," Barnett said.
On November 28th, Barnett and his colleague were executing a search warrant for one room at a large accommodation block. "When I went into the bedroom, there were two dogs. One was my wife's golden retriever. It was unbelievable," said Barnett. "I think I said 'I don't believe it.'" Ka Pai was excited to see Barnett and began wagging her tail.
Ka Pai had been found wandering on the road by a man associated with the complex. He hadn't made an attempt to identify or return Ka Pai, but had taken good care of her. Barnett was thrilled to be able to take Ka Pai home to his wife. "My wife was overjoyed. Ka Pai ran up to her and straight into her arms."