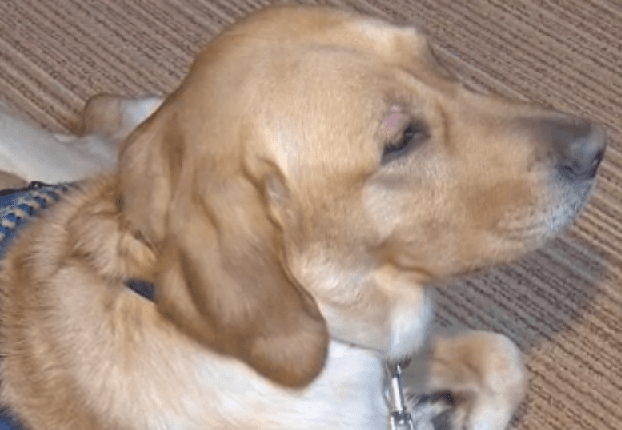 Ignorance about service dogs continues to cause issues for the people who depend on them. U.S. Army veteran Yancy Baer ran into problems at a Starbucks in Texas last week and wants people to share his story so more people are educated about service dogs and their rights.
Yancy Baer discovered he had bone cancer after receiving an injury in Iraq in 2009. He lost his left leg from the knee down. Several months ago Baer's life changed for the better when he got his service dog Verbena through Canine Companions for Independence.
Last week Baer was travelling to Houston from San Antonio for Canine Companions for Independence and to share his experience with them. He went to a Starbucks for a meeting and quickly ran into trouble.
"A gentleman from Starbucks meets me at the door and says I can't have her in the store," said Baer.
Baer calmly explained to the employee that Verbena is a physical service dog and has the right to come into the Starbucks with him.
"He stated, you're not blind," said Baer. "It was in your face, loud and bold. I got really nervous, I was shaking because I was being confronted."
Baer tried to explain what Verbena does, but was met with another rude and hurtful comment.
"I explained what all she does, and his next comment was, 'Why can't you do that yourself,'" Baer said.
Another customer tried to stand up for Baer, and eventually Baer was able to speak to another employee who listened to him and allowed him and Verbena into the store.
Baer wants his experience to be shared with as many people as possible so that it doesn't happen to someone else.
"People with disabilities, you can't always see those disabilities. You never know what a service dog is for," said Baer. "Be careful who you approach and how you approach it. You've got to be sensitive to people. This isn't acceptable. It can't be acceptable."
Baer says he doesn't have any hard feelings towards Starbucks. He just wants more people to be educated about this issue.
Starbucks released the following statement in regards to the incident:
"Starbucks always welcomes service animals to our stores, and this customer's experience is not consistent with the welcoming and friendly environment we strive to create for everyone. We have spoken with this customer to apologize for his experience, and we hope to have the opportunity to serve him again. We have also spoken with our store partner about this situation and used this as a coaching opportunity for the future."