Disney star Sierra McCormick recently visited the Best Friends Pet Adoption Center in Mission Hills, California, to meet many adoptable dogs and cats. However, she was not only there to play with the pets. She was on a mission to use social media to find them homes.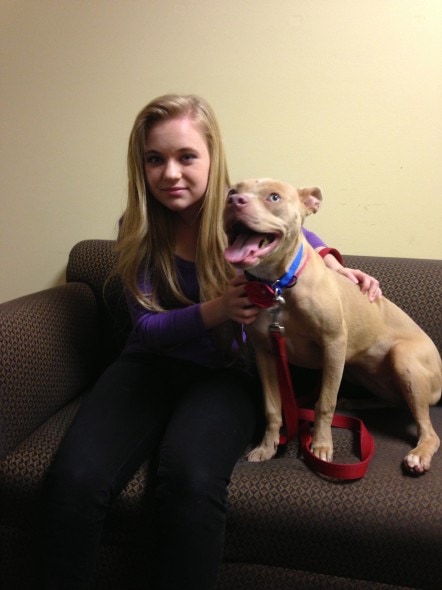 McCormick went around taking pictures of the pets with her cell phone, which would then be shared along with their stories on the DoSomething.org campaign, Pics for Pets. The campaign is focusing on helping shelter pets find homes by sharing on social media accounts such as Twitter and Facebook and the PicsforPets.org website.
Marc Peralta, the executive director of Best Friends Animal Society in Los Angeles shared about the campaign.
"Pics for Pets is such a cool way for young people to get involved in the animal welfare movement. Teens and kids aren't just the future when it comes to helping animals, they can actively participate now and help us Save Them All."
Save Them All is the call to action for Best Friends Animal Society, the only national animal welfare organization focused exclusively on ending the killing of dogs and cats in America's shelters. An authority and leader in the no-kill movement since its founding in 1984, Best Friends runs the nation's largest no-kill sanctuary for companion animals, as well as life-saving programs in partnership with rescue groups and shelters across the country, including Los Angeles.
Chief marketing officer for DoSomething.org, Naomi Hirabayashi, described how Save Them All and Pics For Pets have a common goal.
"We know animal welfare is the No.1 issue for young people, so we created Pics for Pets to encourage young people to visit their local animal shelter, take a picture of an animal in need, post the photo to DoSomething.org/picsforpets.org and social media sites, and help find that animal a home."
She also emphasized the power of a photo in finding a forever family for a pet.
"A good quality photo can make or break an animal's chance to get adopted, and who better to take a lot of pictures than teens?"
DoSomething.org will donate supplies to the participating shelter when information on an adoptable pet is shared more than 400 times from picsforpets.org.
———————————
Best Friends Animal Society Los Angeles works collaboratively with animal rescue groups, city shelters and passionate individuals who are all dedicated to the mission of making Los Angeles a no-kill city. As part of this mission, Best Friends hosts adoption and fundraising events, runs the Best Friends Pet Adoption & Spay Neuter Center in Mission Hills, and leads the NKLA initiative.

NKLA (No Kill Los Angeles) is a coalition of animal welfare organizations, city shelters and passionate individuals, led by Best Friends Animal Society. NKLA is dedicated to ending the killing of healthy and treatable pets in L.A. shelters by providing spay/neuter services where they are needed most so fewer animals go into shelters, and increasing adoptions through the combined efforts of the NKLA coalition so more animals come out of the shelters and go into new homes. In 2012, the coalition's first year of existence, L.A. shelter deaths decreased 12 months in a row, culminating in 4,200 fewer animals killed than in the year prior. Also in 2012, the NKLA Coalition facilitated 23,421 adoptions and 4,458 spay/neuter surgeries were performed.