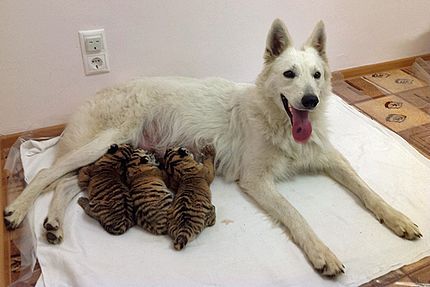 Three Siberian tiger cubs were born in the Black Sea Resort of Sochi, Russia last week, and were quickly abandoned by their mom.  Having deserted another set of cubs five months ago, zookeepers were well-prepared for Bagira's escape from motherhood.  The last time she defected, a Shar-pei named Cleopatra filled the position. This time they placed an ad for a surrogate tiger mother to the babies, but only found a dog, who fortunately has been more than suited for the job.
The White Swiss Shepherd named Tallim has adopted the orphaned cubs as if they were her own.  She is currently pregnant, but was immediately able to nurse.  She's been put on a high-protein diet to keep her healthy and to make sure she can produce enough to feed the tigers and her puppies.  The cubs are also being supplemented with goat's milk, so as not to exhaust Tallim.
Zoo spokesperson Victoria Kudlaeva said they were surprised she took to the cubs so quickly.  But it is not entirely uncommon for female animals to adopt abandoned babies of other species and provide them with sustenance and comfort.
The tiger cubs, males Olymp and Dar, and a female named Tallim, at first hissed and swiped their claws at their strange-looking parent. With patience only a mother knows, she waited for them to grow accustomed to her.  They have not yet begun to annoy Tallim with their sharp claws and teeth, but when they get out of line, she has no problem nudging them back and showing them who's the alpha dog – or cat.