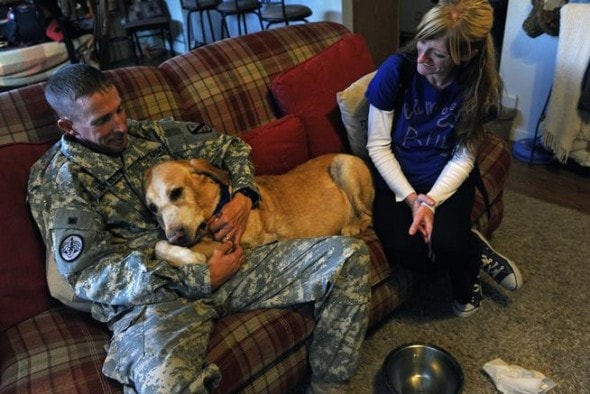 When Army Sgt. Jason Van Loo learned his beloved yellow Lab Blu had cancer he was afraid he wouldn't make in back from Afghanistan in time to see his best friend. Blu had been given only two months to live in April but he fought and was there to greet Sgt. Van Loo when he returned in August. Blu continues to fight and is there for his soldier, providing comfort and therapy.
Sgt. Van Loo and Blu share a strong bond and while deployed in Afghanistan Sgt. Van Loo received news that devastated him, Blu had cancer and had only two months to live.
"When I got that text message, my whole world ended," said Sgt. Van Loo. "It's like finding out one of your kids has cancer."
Sgt. Van Loo wasn't to return home until August and he was afraid he might never see his beloved Blu again. His wife Kari Von Loo took Blu to Flint Animal Cancer Center at Colorado State University and hoped they could at least keep Blu healthy enough until Sgt. Van Loo returned.
As word spread of Blu's story donations came pouring in through a Facebook page that was set up to help pay for Blu's treatment. Blu underwent chemotherapy and surgery to remove a tumor. The treatment worked and when Sgt. Van Loo returned home in August Blu was there to greet his hero.
"When I got home and walked in the door that first night, he mauled e and licked me from head to toe," said Sgt. Van Loo.
Veterinarians now say Blu likely won't make it to Thanksgiving. Despite his diagnosis he is living a happy life. He goes on daily walks and is still a friendly, lovable Lab. Most importantly he is there for Sgt. Van Loo, helping him transition back form a difficult deployment.
"I consider him a service dog," said Sgt. Van Loo. "It was a rough deployment, and when I talk to people on the street about why he has three legs, it helps me get stuff off my chest. He's a godsend."