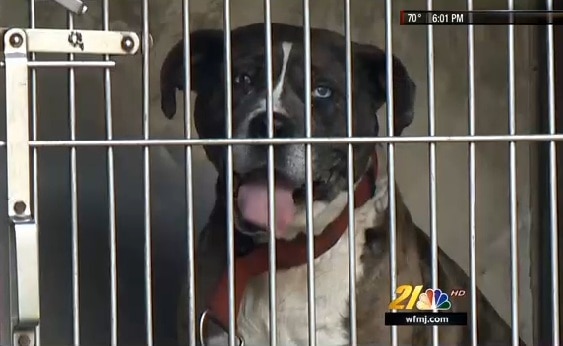 At least five pit bulls have been rescued and a dog-fighting ring in Philadelphia has been busted.
"We've had this place on our radar for quite some time," George Bengal, director of Law Enforcement for the Pennsylvania SPCA. "Today we obtained enough probable cause to get a search warrant and make entry into the property."
Officers arrived to the premises to find five dogs living in squalor.
"A few of them are a bit under weight, but for the most part the animals appear to be in pretty decent condition, but they were all living in unsanitary conditions," Bengal stated.
In addition to the dogs, a fighting ring, treadmills and other fighting paraphernalia were discovered.  The owner of the property, Antoine Talley, who has been previously convicted on charges in connection with a dog fighting ring in 2000, has been arrested.
"He's looking at felony charges if he's convicted," said Bengal. "He could possibly wind up doing jail time for this."
Neighbor Ralph Pratt said the dog fights had been going on for two years, waking up neighbors in the early hours of the day.
"Every neighbor within 100 feet would be hollering out their windows," Pratt said. "I would come out at night and other neighbors would come out and see each other and just throw our hands up in the air. We felt so bad for the animals."
It is a wonder then, why neighbors didn't do more to stop the operation.  Perhaps they did, and by the time officers arrived, spectators had fled.  Perhaps they were worried about retaliation, but whatever the reasons, at least one perpetrator has been identified and taken in.  It can take a long time to bust dog fighting rings, as there is always the need for strong evidence to be gathered, and plenty of red tape to cut through.  This leads many to demand a bill be passed that allows the investigation and charging of individuals linked to dog-fighting based on the presence of paraphernalia, such as treadmills, heavy chains and dog breeding "rape stands."
Pratt said dogs had been taken from a suspect last year, but that new dogs replaced them.
"Three months later, because they did not destroy the kennel he has them in, he just repopulated," said Pratt. "In West Philadelphia, where he lived before, he was kicked out of the neighborhood for the same thing. Then he came up here and set up. This is a habitual dog trainer and breeder for the dog fights."
We will bring you more information on the dogs and the offender(s) as it is released.
21 News Now, More Local News for Youngstown, Ohio –