When a fire engulfed the home of a Michigan family, their cat, Ringer, was unable to be found, and their dog, Chloe, had to be resuscitated by firefighters.  On Sunday, Christine Marr brought Chloe back to the house for the first time, and she found Ringer hiding under the floorboards!  This was the best Mother's Day present she could have ever hoped for.
"Human life, animal life, it's life," South Haven Area Emergency Services firefighter Owen Ridley told Fox17. "And it's precious no matter how you look at it."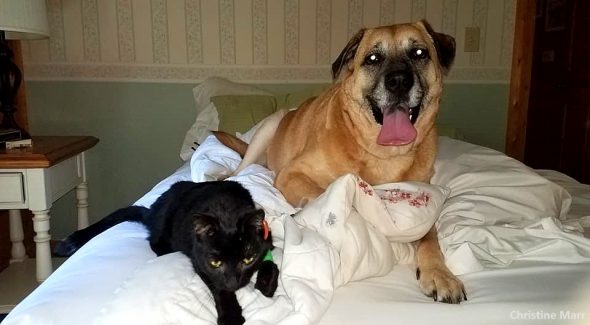 Two months ago, a fire broke out in the Marrs Casco Township home, claiming the life of their cat Ringer (or so they believed), and nearly extinguishing that of their dog Chloe.  She was found just barely clinging to life on the bathroom floor.  Firemen used an oxygen mask to revive her.
"I just would not have been able to live without her," Christine said. "She's my world. She's like my kid. Thank you."
After the fire, SHAES ordered canine and feline oxygen masks to be carried on each of their trucks.
The Marrs' home was salvageable, and Christine has been by to visit, hoping that she'd find Ringer, but never seeing him.  She could sometimes hear a cat meowing, but thought for sure it was just a neighborhood cat.  That is, until she brought Chloe with her on Mother's Day.
"Looking for that cat, we picked up furniture, looked around beds, looked in every nook and cranny for that cat," said SHAES Chief Ronald Wise told WGNTV. "To know that Chloe had found the cat, that's amazing. She's a true hero, she is. To get that cat, you wouldn't think the cat would live that much longer."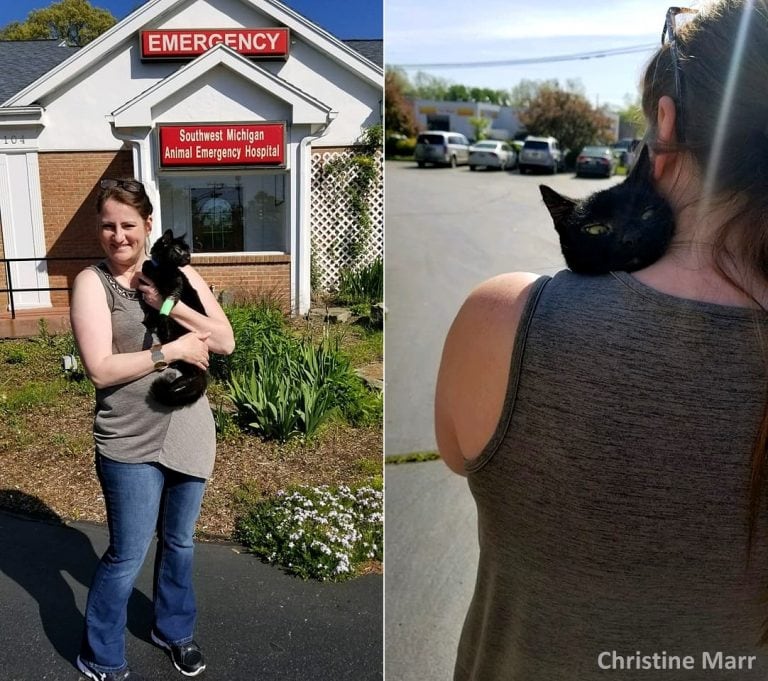 Poor Ringer was badly malnourished – about half his normal body weight – and it is believed that he survived by eating insects and any other small critters that came across his path beneath the house.  He's currently got a feeding tube in so he won't be at risk of having his organs go into shock with refeeding syndrome.
In the meantime, Chloe has been keeping an extra close eye on Ringer.  Since finding him, she seems to be resolved not to let anything else happen to him on her watch.  And who knows – perhaps since having been rescued herself, Chloe would make a wonderful search and rescue dog!
Chloe and Ringer required medical treatment for their maladies after the fire.  If you would like to help, please click here to make a donation towards their care.