Pinned under the crushing weight of the garage that collapsed on him when his home exploded, a dog named Rocco was found alive yesterday – 16 hours after the blaze was extinguished.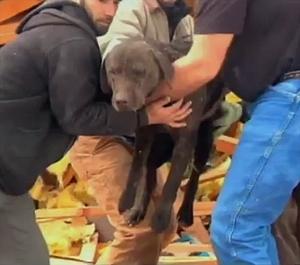 On Wednesday, rescue crews pulled Rocco from the wreckage of his family's vacation home on the northern New Mexico border. Officials say a propane leak is suspected for causing the blast that leveled the structure.
"Complete devastation. I'm shocked at the amount of damage," said Tom Aurnhammer with Los Pinos Fire Protection.
Tim and Karen Kelley were inside the home with their 9-year-old daughter Cameron at the time of the explosion, and all three are hospitalized for injuries sustained when the house came down. All are expected to recover fully.
During an interview at the scene with local news affiliate KOB, Aurnhammer was interrupted by crews who were elated to find a fourth survivor. "The family dog has been missing since last night and was apparently in the garage at the time of the explosion," he said.
After being trapped for more than 16 hours, Rocco was free. "The dog is alive. He's been removed from the structure," said Aurnhammer.
Officials said finding the dog alive after a disaster of this magnitude was nothing short of miraculous. Rocco is being treated at River View Animal Hospital for multiple injuries, and is in serious condition. Veterinarians say the next 24 hours will be critical in determining his chances of recovery.