While Emilia Lucchese walked the streets of Messina, Sicily, she discovered an abandoned and dehydrated dog dumped inside a garbage container. The male dog was weak and had his legs tied up with wire. Someone dumped the innocent pet inside a garbage can. Lucchese only realized there was an animal in need inside the container, after overhearing the dog's faint whines. When she opened the bin's lid she discovered a tied plastic bag with the agonizing dog inside it.
"I thought maybe the dog had got trapped inside [the bin] after looking for scraps or something, and somebody had shut the lid," she said.
The woman immediately removed the bag from the garbage container and with the help of a friend opened the plastic bag to find the frail dog unable to keep his head up.
The women video taped the incident and offered the dog some water. The pet wagged his tails while he drank water and received a caring touch from Lucchese and her friend.
"It was in shock and really thirsty so I assume it had been there for a while," said Lucchese. "[The dog] started to come around only after we poured water from a bottle into its mouth."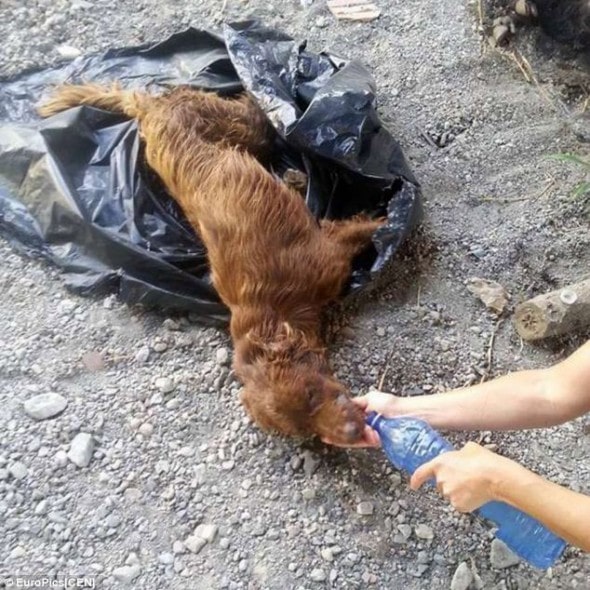 The dehydrated dog was named Oliviero and was taken to a veterinarian. Since his rescue, the abandoned pet has made a remarkable recovery and has been adopted by Lucchese.
The rescue video was posted on Italian social media outlets and it went viral, capturing the attention of authorities. A police investigation is now open and officers hope to find Oliviero's previous owners and abusers soon. However, they have no suspects yet.