You might not think that a dog could have a favorite movie, but if this guy is any indicator, they most certainly can!  Stryker absolutely loves the movie Bolt, and whenever he sees the animated dog on screen, he goes ballistic.  You HAVE to see how adorable it is.
As soon as Bolt appears, Stryker bounds over to the television.  He anxiously awaits every appearance, alternating between excitedly wagging his tail and picking up a stuffed toy to shake about.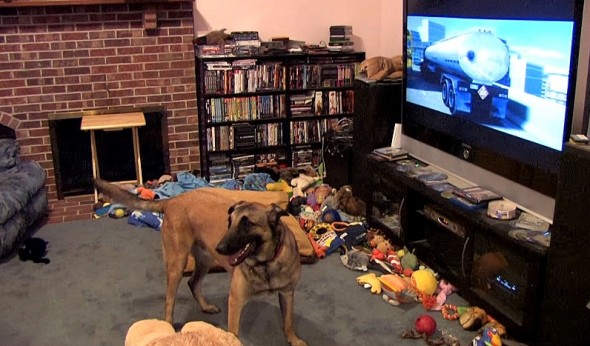 He looks around the room, as if to say to everyone, "Guys!  Look – it's Bolt!  Isn't he the greatest??  He's my absolute favorite.  I just love, love, LOVE, Bolt!"
Little sister Meeka is unimpressed.  But what does she know?  She's just a baby!  She tries to join in on what looks like a game of tug-of-war, but is ditched as soon as Bolt is back on screen.
Because his adoration is so profound, owner Amy Rogers even bought him his own copy of Bolt.  The Belgian Malinois loves watching tv, but he really just can't get enough of his favorite actor.
"It started with Bolt. We happened to be watching it on someone else's uploaded video on Youtube, when he noticed it, Amy told us.  "This was his reaction, so we bought him his own Blu-ray copy of it. He does this for pretty much any four-legged animal that appears on tv.  He can recognize Bolt by the music of the opening scene, and will come running from anywhere in the house."