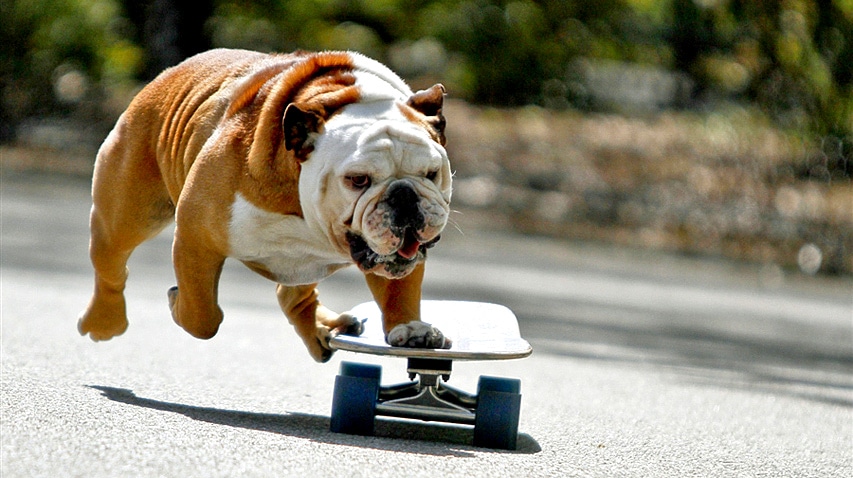 Sure, we're used to seeing dogs with all sorts of talents now, but people's jaws dropped when Tillman made waves.  Most humans aren't capable of skateboarding, but the bulldog's nugget-shaped body allowed him to be a natural at the sport.  He sadly died on Tuesday at age 10.
Tillman became famous after his big break on a 2007 iPhone commercial.  The video shown of him skateboarding quickly went viral, and in 2009, he gained even recognition when he set a world record for the fastest skateboarding dog.  He boarded more than 100 meters in less than 20 seconds.
Tillman having fun with fellow boarder Shaun White
Heartbroken owner Ron Davis shared the sad news on October 28th on Tillman's Facebook page.
"I'm sorry to announce the world lost a true legend… My best bud Tillman passed away last night, of natural causes. We spent 10 years making so many incredible memories skating, surfing and hanging out together. No words can truly describe how much he'll be missed. Thanks for all the good times, Tilly."
Tillman had an irregular heartbeat, and on Tuesday night endured a sudden spell of labored breathing.  Davis rushed him to a veterinary hospital, but CPR could not revive him.
The adorable dog, whose stature earned him the nickname "pot roast," loved surfing, skimboarding, snowboarding, and sledding.  He even loved riding around in his special seat on an ATV.  But his true passion was skateboarding.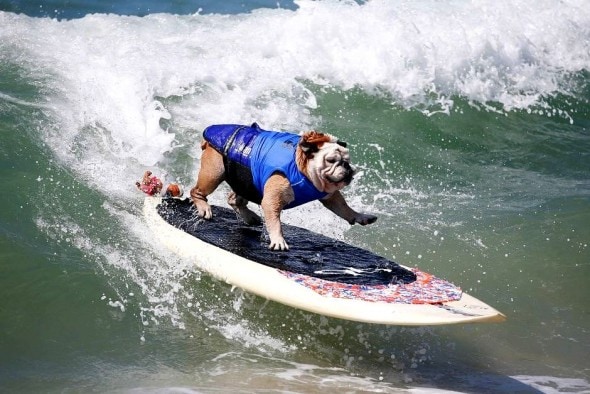 "He was my best friend, my brother and my shadow, and when it was show time, it was amazing. He made millions and millions of people smile throughout the world," Davis told NBC. "He was a little 60-pound butterball of inspiration for a lot of people."