Since November 2012, a dog, believed to be a Pit Bull, has been living in a wooded area behind Claire Christin's home in Dekalb County, Georgia.
"He is really afraid of people," said Chirstin. "One night, I was with my dog back there and he saw him hiding in the bushes. I was scared. I didn't know what a stray dog would be like."
Christin has been keeping an eye on this dog ever since she first encountered him. She often goes into the wooded area, which is approximately 20 acres, and tries to interact with the homeless canine.
"One day he started playing with one of my dogs and I saw he was friendly," said Christin. "He had a collar on that was too tight for his neck size, so once I was able to gain a bit of his trust, I took the collar off.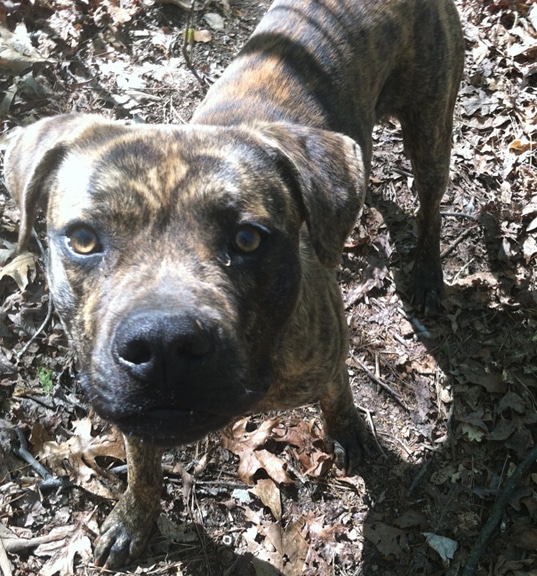 According to Christin, the dog has made the woods his home. He spends most of his time close to a neighbor's house that has three other dogs. The friendly homeless animal seems afraid of these dogs. He cries and whimpers most of the time when the dogs are out, but Christin believes that somehow he feels safe near them. The dog has made the area closest to the other dogs his home.
"I dragged a dog house out there, but I don't think he uses it," said Christin. "I bring him water and food so that we can become friends. He has collected some toys and keeps them near his 'home.'"
The dog has grown somewhat attached to Christin, however she is unable to offer him the forever home he needs. Christin already has two, large, older dogs – Joey (12) and Jocassee (13). Joey suffers from hip dysplasia and won't benefit from a rambunctious young dog.
Christine believes she is not the only one feeding the homeless dog from the woods. "He looks well fed and is happy," she said. One of her neighbors called the local animal shelter but so far no one has come out to capture the dog.
Even though Christin has fought getting attached to the dog, she knows he is a gentle soul and deserves a loving home.
"I like this dog so much that I'm always scared of what will happen to him in a shelter," said Christin. "I can't bring myself to turn him into the pound. I don't know what will happen to him there."
Through her own Facebook page and with the help of some friends, Christin has reached out to different organizations. However, the few organizations that have shown interest are miles away and have asked Christin to pay for the cost of transporting the dog. She can't afford to do this right now.
The homeless dog from the woods has been living on his own  for seven months now. Nothing would be better than finding him a forever home. Christin feels bad that this sweet baby has been living out there, all alone for so long.
"This dog is so sweet and playful," said Christin. "He rolls on his back, walks with me through the woods, lets me pet him and has licked my face. If he wasn't such a good dog it would be easier to give up on him, but it is not like me to give up on him," she concluded.
If you would like to help Christin find a good home for this dog, or if you know of any shelter, foster family, or an individual that is willing to take on and care for this dog, you can contact Claire Christin directly at [email protected]