Jessica, a dog from Tahlequah, Okla., has a long road to recovery. This May, she was tied to the back of a pickup truck while the grass on her property was mowed, but when the grass was cut, her owners forgot all about the dog and she was later accidentally dragged down a road. Fortunately, the dog was rescued and is receiving proper medical care.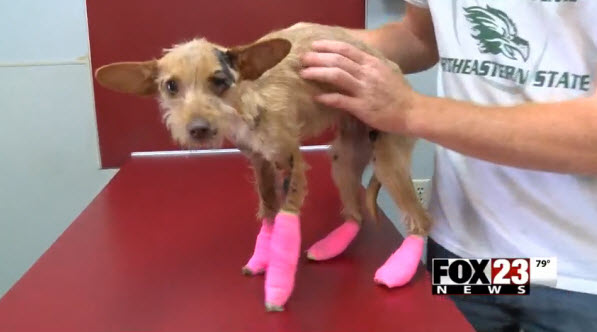 According to KFOR News, a family member and a friend were working on the yard and tied the dog to the back of the truck to keep the dog out of harms way. After mowing the lawn the two men went inside the house and forgot Jessica was left tied to the truck. Later, the truck's owner decided to go to the store but had no idea there was a pet tied to his car.
Witnesses saw how Jessica struggled to keep up with the speeding truck. They saw her lost her footing and get dragged down the road until the leash broke. The small dog was tossed to the side of the road and was left there bleeding and clinging to life.
Those that saw the accident followed the truck and tried to stop it. They came to the dog's rescue as soon as the pet's body came to a stop on the paved road.
Jessica was rushed to the Cherokee County Humane Society, were veterinarians stabilized her and saved her life. The Humane Society agreed to cover all medical expenses and even offered a $500 reward to anyone with information on who dragged the pet down the road. A few days later Jessica's owners came forward with the truth of this accident.
Before knowing the identity of the dog's owners, Lou Hayes from the Cherokee County Humane Society told local news that Jessica's injuries could have been a simple accident, and her owners were probably afraid to come forward.
Jessica's owners admitted full responsibility and have agreed to cover all medical expenses.
The pet continues to heal and is expected to remain under foster care for rehabilitation for the next two months.