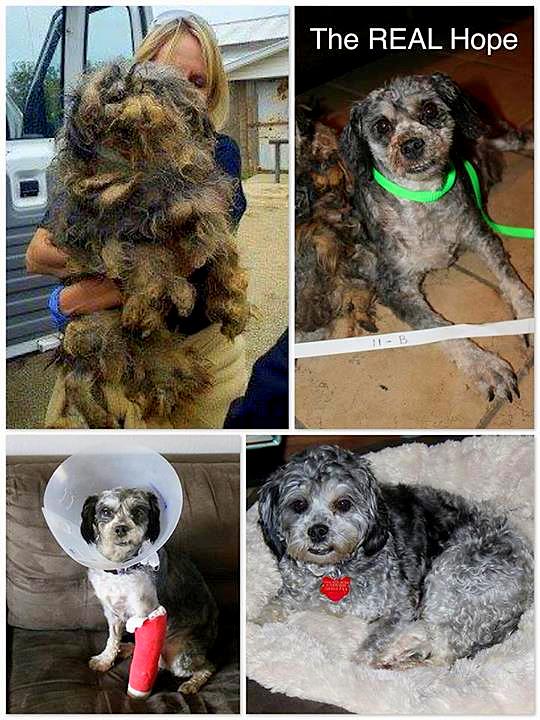 From the LOTL (Life on the Line) Rescue page:
My name is 109. I have lived in a puppy mill for 6.5 years. I have had 11 litters of puppies and made my owner over $30,000.
To show his gratitude, he has never bathed or brushed me….he has never placed a kind hand on me. I have never seen a vet or felt grass under my feet.
The only time I am out of my 2×3 crate is when I am bred by force. I get a little more food and a cleaner pen when I have my babies. I am happy for awhile, but by four weeks they take my pups away to sell them online and at pet stores and I am alone again back in my crate.
The wire floor in my crate has caused me to have permanent deep painful groves in my pads. My nails are so long I can't walk on a hard surface.
Today, we were rescued. I am so scared, but I experienced something I have never heard before…..a soft, gentle voice.
Number 109, likely the number of the crate she was housed in, was one of fifty two dogs rescued from the puppy mill in Circleville, Ohio.
"I sat and shaved her down the night I got her. She lived with me while we had her leg fixed," said Gretchen Marks of Animal House Rescue. "Her leg was matted but not circulation cut off.  The leg actually had a past injury that was covered in mats and required extensive orthopedic surgery at a very high cost to our rescue.
"The picture top right, shows the pile of fur that was as big as Hope. Picture bottom left, was with her leg still in a cast. Picture bottom right was of her just before she went to her new mommy who adores her every minute of every day.
Hope's mum is a widow who lives her life around Hope, who is now called Holly because the lady said she no longer needed to "hope" for a loving home because she has a home."