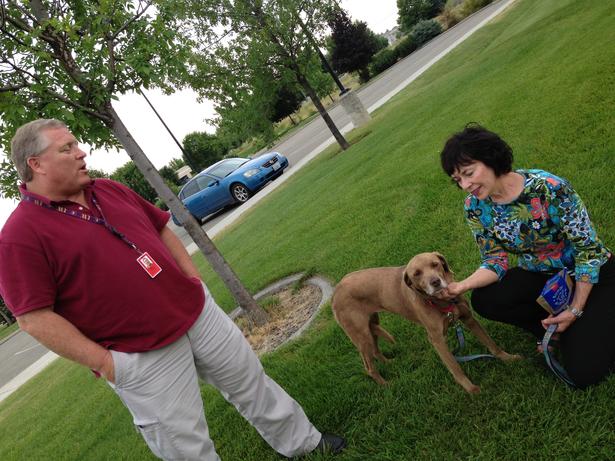 For four years Ginger spent her life living in a field in Lake Liberty, Washington.  Employees at the nearby Accra-Fab company cared for her until finally last month pet rescuer Carmel Travis captured Ginger and gave her a home.
Employees at Accra-Fab first saw Ginger in September 2009. They were afraid that if they took her to a shelter she might be put down, so instead they provided the Weimaraner-mix with food and water. Ginger was skittish and would run away when employees tried to approach her. Several employees tried to get close, but Ginger would never let them. Employee Barry Stewart used binoculars to get a better look at her and make sure she looked healthy.
Last month Travis heard about Ginger when she was trying to rescue another loose dog. One of the men helping her rescue a loose golden retriever mentioned Ginger and how she lived in a field. Travis instantly wanted to help.
"It would haunt me that there's a dog living in a field," said Travis. "That's not right."
Travis got in touch with Spokane County Regional Animal Protection Services, but they said they wouldn't be able to guarantee a live release of Ginger from their shelter. So Travis worked on her own to set a trap for Ginger. On July 6th Ginger was finally caught with the help of a double cheeseburger.
Once captured it was discovered Ginger had a microchip and her history came to light. She had been surrendered by her original owners to the Spokane Humane Society because they had too many pets. Ginger was adopted out but when Ginger went home with her new owners she took off before ever even making it inside her new home.
Travis contacted Ginger's second owners. They had since moved away and told Travis they had looked for Ginger for some time but eventually gave up. Travis was originally planning to take Ginger to a shelter for unsocialized dogs, but soon she saw how well behaved Ginger was and she didn't want to let her go.
"She's too sweet to let go," said Travis. "She captured my heart."