Sierra, a 16-year-old Siberian Husky from Morristown, Tenn., ran away while her owner, Jimmi Winstead, was in Florida on vacation. Neighbors and strangers rescued the pet three days later, after the dog was found stuck in a drainage pipe.
"I was sick. I felt helpless. There was nothing I could do," Winstead told Local 8 News of how she felt after a neighbor called to tell her Sierra was lost. Later, that same neighbor called to inform Winstead that Sierra had been found stuck in the pipe.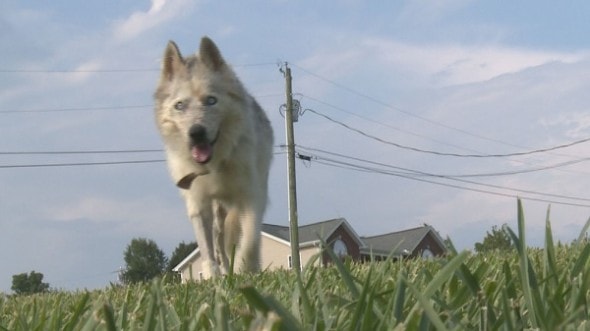 For three days the dog was helplessly trapped in a drain on the side of the road near her home. Thankfully, a neighbor heard the dog's cry, and a rescue mission was put in motion.
As soon as neighbors found the lost pet, authorities were called. Two deputies from the sheriff's office responded to the call and contacted a friend and backhoe owner to help in the rescue. With the help of the heavy machinery, a hole big enough to fit two men was dug and rescuers broke into the pipe to reach and rescue Sierra.
The dog was rushed to a veterinarian and many believed  she was dead. The vet determined the dog was dehydrated, had bite wounds on her face, sores on her body, and feared she would never again be able to walk.
Afraid the dog was too sick to survive, the vet told Winstead over the phone that the 16-year-old husky might have to be put to sleep, but somehow Sierra made a remarkable recovery, and by the time her owner got back to town, the dog was standing and taking a few steps.
"It was amazing, because once you hear … 'Put her to sleep, she's not going to walk again,' and you come home to that? You just [can't] imagine the feeling you get knowing that [your dog is] going to be okay," Winstead said.
The pet owner is grateful to have such amazing neighbors and community members that were willing to do everything in their power to rescue and save Sierra. Because of them, the elderly husky is alive and on her road to recovery.