A man who wishes to remain anonymous has brought media attention to an egregious case of animal neglect, and says that unless something is done soon, he is going to watch his neighbors starve another dog to death.
The dog in question is chained in the front yard of a home in Calvert, Alabama. The anonymous informant says it has been there for over two years, suffering in silence.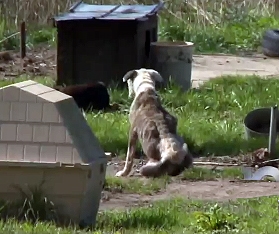 "The way the dog looks it's just a pitiful sight; to sit right there by the highway and look at it. I've been noticing the dog for about two years and he has been sitting there about to starve to death," said the man. "In the summertime they don't get any water. When it rains, they stay out in the cold. It's just not good," he said, his voice disguised to protect his identity.
As cars pass nobody seems to notice. Or have they just turned a blind eye? History would suggest that compassion is in short supply in Calvert. Drivers and passers-by have ignored a number of dog deaths in the exact same location.
"I think something like two to three dogs have starved to death on that same chain right there in that same yard," said the man.
There is no question that this is a dog running short of time. When it stands, it is nearly skeletal, and it labors to move. To put it bluntly, this dog is dying in front of countless witnesses. Action is needed immediately.
Reporters say that animal control has been contacted, and apparently officers said they will 'look into the matter'. Given the fact that an entire town has turned a blind eye to blatant cruelty for years, we have our doubts.
UPDATE (2/14/12 18:00pm) An arrest has been made.
Fox10 reports: "FOX10 News was there when sheriff's deputies arrested James Samuel Newbill and charged him with animal cruelty. He was taken to the Washington County Jail and is being held on $3,000 bond.
Officials say the dog was at the residence at the time of the arrest. SouthBARK made their way to McIntosh to pick up the dog. It will be taken to Ark animal Clinic in Mobile, where she will receive veterinary care."