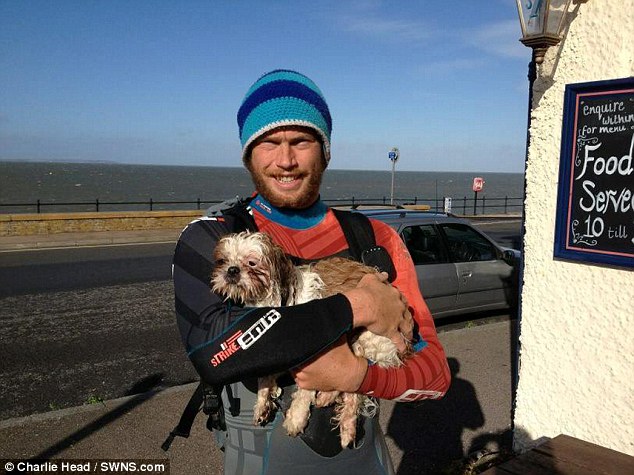 Charlie Head was attempting to row 600 miles from Cornwall to London, when on the closing stretch of his journey he spotted a Shih Tzu puppy stranded on some rocks just off the coast of Kent. His focus quickly shifted from his athletic endeavor to saving the puppy. The rescue was all captured on video thanks to a video attached to Head's helmet.
The Shih Tzu was found standing on some rocks, surrounded by water. "He was just sitting there wondering what the hell to do. He was absolutely terrified," said Head. Ten more minutes and, due to the incoming tide, the rocks would have been covered with water. Luckily Head spotted the puppy and got to him in time. The puppy was terrified at first, but soon realized Head was trying to help him, "When he felt safe he snuggled up between my legs and we headed back to shore."
When Head got to dry land he took the dog to the nearby Hampton Inn pub. The landlord there took the pup in and a barmaid wrapped the puppy up. "We were calling him Pebbles until the dog warden looked at his microchip and found out his real name," the barmaid said. The dog's name turned out to be Bam Bam. The owner still hasn't been traced. If the owner is unable to be located the barmaid intends to keep Bam Bam.
Head went on to complete his 600 mile adventure that he started in July. He next plans to tackle the Atlantic Ocean, intending to commence that challenge in two months. He hopes rescuing Bam Bam will bring some good karma for his next adventure, "It was great to help the little dog hopefully the good deed will be bring me a little luck and help me complete the rest of the challenges."