Social media networks recently exploded with the story of Lady, an elderly black Labrador from Kansas, who walked 30 miles to get back to her home after her owners surrendered her to a shelter because they no longer wanted her. People were outraged by how cold-hearted Lady's owners were, but don't worry, things happen for a reason, and the rejected dog has landed the best forever home she could ever wish for. She is now part of Helen Rosburg's pack. Rosburg is the heir to the Wrigley chewing gum fortune.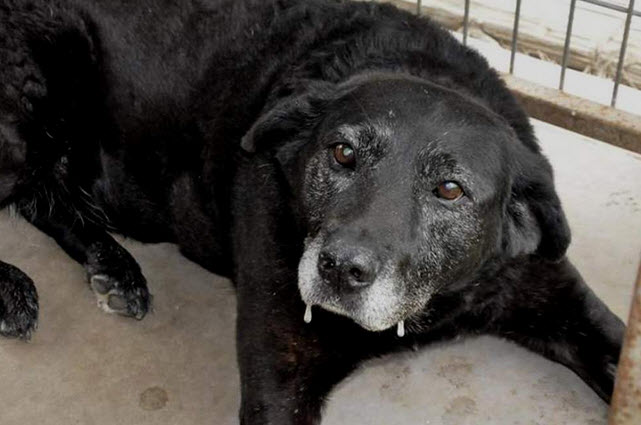 The story goes something like this.  Lady's original owner died in 2012, she was then adopted by a Sedan, Kansas, family who later gave her up when they acquired a small young dog, with too much energy for this old gal to handle. The family thought it was best to send Lady to the shelter instead of letting her live her golden years with them.
Luckily, the elderly Labrador got adopted by a new family from Independence, Kansas, but the dog escaped from her new home, because she yearned for her previous owners, and walked 30 miles to get back to them in Sedan, Kansas. Sadly, her former family did not want her back and Lady ended back at the shelter and homeless.
When Rosburg read the story on Facebook while she was away in Hawaii, she was moved by it. Roseburg had recently lost her senior black Labrador named Granny. The heiress decided to do something to help the old dog, she asked her staff to get in contact with Chautauqua County Animal Shelter, where Lady was waiting for a new home, and adopt the dog.
According to The Tampa Tribune, Chet Ragsdale and Barbara DiCioccio, Roseburg's assistants, boarded a jet at 4 p.m. on July 31, 2014. They flew to Sedan, Kansas, to pick up the dog. By 10 p.m. that same night, Lady had arrived at her new home in Odessa, Fla., where she joined five other dogs and various cats in Rosburg's 11,000-square-foot, three-story house.
Lady is one lucky dog and she will now enjoy a beautiful life next to her loved and spoiled furry siblings.
Congrats to Lady and thank you Helen Rosburg for opening your heart and home to this pet in need.
---
Rosburg is the founder of On the Wings of Angels Rescue where 70 rescue dogs, cats, cattle, horses, goats, rabbits, pigs and birds reside.