This past Sunday at Huntington Beach, California, the 2014 Surf City Surf Dog Competition was held.  Dogs from all over came to compete in the event, which started Friday and spanned three days.
Things kicked off Friday afternoon with a "yappy hour" and there was a "paw-abunga" costume contest as well.
When the event resumed Saturday, three special dogs had been inducted to the International Surf Dog Walk of Fame in a special ceremony.
On Sunday, the whole thing wrapped up with the actual surfing competition that took place on the Huntington Dog Beach, and capped off with the award ceremony which was held at the Shorebreak Hotel.
The event is in its 6th year, and this time had a total of 65 dogs in competition and over 2,500 humans attending.  To date, it is the largest surf dog competition in the books.
The competition is broken down into four weight classes.  It also includes a special tandem class for both owners and their dogs, and a "shredder" class as well.  Imagine that, dogs shredding on a surfboard!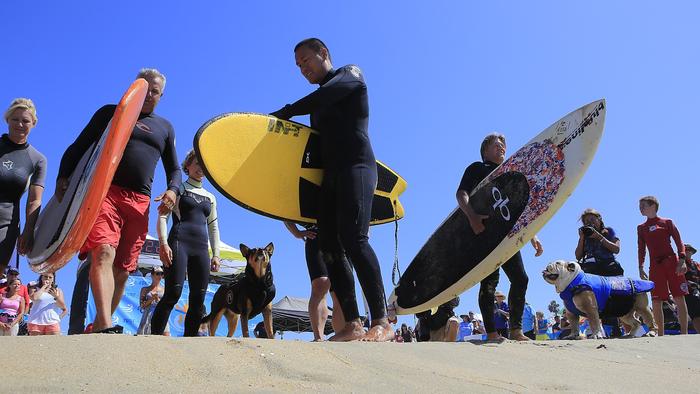 The photos of all of the winners were featured on Instagram.