This comes from a fundraiser page set up by Steven Nez:
Thank you for visiting this page.  Below you will read the story of Gail Yazzie, who is nursing 8 Siberian Husky puppies to health so they can find Forever Homes.  I don't want to try and skirt around the issue.  Gail is looking for help in getting these puppies to 12 weeks old so that they can be sent to the lower 48 states to nice homes.  Gail is a proud and stubborn woman, and she hates the thought of receiving any type of therapy.  But she cannot do this on her own.  Keep that in mind as you read on below.
I would like you to meet Gail Yazzie, a nearly 70-year-old native Alaskan who is strong in both body and will.  Gail lives in a small "village" in Alaska called Slana, well removed from any other large town.  Fairbanks and Anchorage are both over 250 miles away, and Juneau is a whopping 550 miles away.  Gail was born here, and together with her husband they have lived here for over 30 years since she moved back.  There is no employment, and they live a mainly subsistence life, fishing and growing crops, trading for meat and supplies.
…
(Note: I apologize for the photos.  Gail took them with what I can only describe as the oldest cell phone known to man 🙂
I have known Gail for well over 40 years, and when she called me several days ago I knew that I had to help her.  She is a proud woman, and is against charity of any kind, but I convinced her that placing her situation on GoFundMe is not charity, but a means to an end to help the puppies she is burdened with.  Please read along and you will understand what I mean.
A year ago, a neighbor had moved into the village about two miles from Gail's land.  Gail would go to them from time to time to trade crops for cords of lumber.  The neighbors (Gail would prefer not to use the names) kept a pack of Siberian husky sled dogs, presumably to race in the Iditarod, but she wasn't sure of this.  However, they were used as sled dogs, primarily for transportation during the long winters.  Gail is opposed to this practice, which puts her in the minority.  She believes (as do I) that it is cruel to have the animals stay outside all of the time, including the winter, and work as an "engine" for a human's sled.
When Gail went over to the property recently, almost all signs of the couple had been removed.  This is fairly common practice in small villages, where people tend to leave right before the harsh winter sets in.
Unfortunately, they decided to leave 9 small Siberian husky puppies behind, nearly starving and yelping out of hunger and exposure.   Gail is not sure how long they were there, or how old they are, but they were very small and some of the eyes were not fully open.  She gathered up the pups and brought them back with her to her property, where she set up a small area in her mud room for them.  She was able to feed the pups a mixture of goat milk and mashed rice, using her finger tips and a small medicine syringe she had from cough medicine.  Unfortunately that night, one of the puppies succumbed to the exposure and hunger it faced and died.  As long as I've known Gail, she has been the strongest woman I know, but she told me she broke down and cried for this puppy.   But luckily, the other 8 have survived and are doing well.
This was almost 2 weeks ago, and Gail contacted me to tell me the story.  She is opposed to charity, and would rather barter if she didn't have the money, but I explained to her that she is taking on a burden that is not normal, that she NEEDS help to make sure these puppies grow up healthy and strong.  At this, she agreed, and agreed to allow me to help her with this GoFundMe page.  She does not want to give the dogs to a shelter here in Alaska because she knows that the dogs will be scooped up immediately and used for breeding other sled dogs or for racing themselves.  She would like to see the puppies lead a nice, comfortable, easy-going life somewhere in the lower 48 states.  Her plan, she says, is to raise the puppies until they are about 12 weeks old, make sure that they are seen by a veterinarian, and are fat and healthy for a trip to the lower 48.  Her first goal, with my help, would be to see if she can get the puppies adopted one by one to people she believes will be a good forever home.  However, if that is not possible, she will give the puppies to the Siberian Rescue in San Francisco, California who will find them good homes.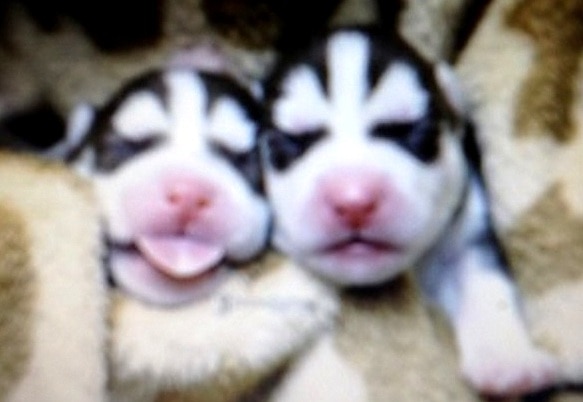 You can help in one of two ways, or both.  There are going to be several expenses while she raises the puppies.  The major ones will be food, vitamins, and veterinary visits and shots.  Gail has a dog of her own, a boxer, so she knows of a vet who travels by bush plane from Anchorage.  Normally the vet only comes for emergency visits, and the cost is prohibitive, but he is willing to make two trips during the 12 weeks for $500 travel plus shots and any treatment/care the puppies should need.  This is estimated to be about $2,000 total.  The food and vitamins are to be shipped, bulk, from Anchorage, and should cost no more than $2,000 for that time period.  Therefore, we are trying to raise at least $3,000 for the puppies to help Gail.  She will be taking care of the puppies mainly herself with some help from her husband. He is very private and prefers not to be named.  She is using money from her Alaska Permanent Fund, which is used every year to help them get new clothing and certain pantry items that they cannot trade for.  The other way that you can help is if you are looking to adopt a puppy and are willing and able to care for a Siberian husky.  Some of the things Gail would like to see in a forever home are:
1.       Being financially sound to take care of all the dog's needs
2.       Must be willing and able to have the dog neutered/spayed when the time comes.
3.       Preferably have some experience with dogs.
4.       Preferably have a yard (apartment life is difficult for this type of dog).
5.       Be willing to pay for the travel expenses of the dog (which should be fairly cheap since I contacted Alaska Airlines and they would be willing to put the dogs on their flights as long as it's in a suitable dog crate).
6.       Be willing to accept that there are no pedigree papers
I will include my email and my phone number below, and anyone who is thinking about adopting can contact me and leave a message with your name and I will put together a list.  When the time comes for the puppies to be adopted out, I will get updated photos from Gail and contact the list starting from the top to see who is still interested and capable of giving one of these dogs a forever home.
If you have the means, please donate what you can by clicking here.
…
907-320-0129