An 89-year-old man from Baddeck, Nova Scotia, Canada is one lucky gentleman.  He had taken a terrible fall and broken his hip while skiing, and almost didn't make it out alive.  Thankfully, a young man and his dog were able to rescue the injured man, and he's VERY thankful to be alive!
Lloyd Stone had been doing some cross-country skiing near Big Baddeck Road on May 3rd when the incident happened.  It was starting to get dark, so Stone was heading home.
"I hit some ice and slipped and fell on my backside," he said.  "I was on my back and I tried to push myself along a bit with my good leg to work myself out to the highway."  Stone says he was "getting pretty tired, pretty cold.  Not giving up but losing hope."
Stone had been stuck where he was in an unbearable amount of pain for three hours.  That's when Calvin Kuchta, a 17-year-old from the same town and an acquaintance of Stone, noticed a car parked out by the ski trail.  He knew who the car belonged to, and thought it was odd that Stone would be out this late in the evening.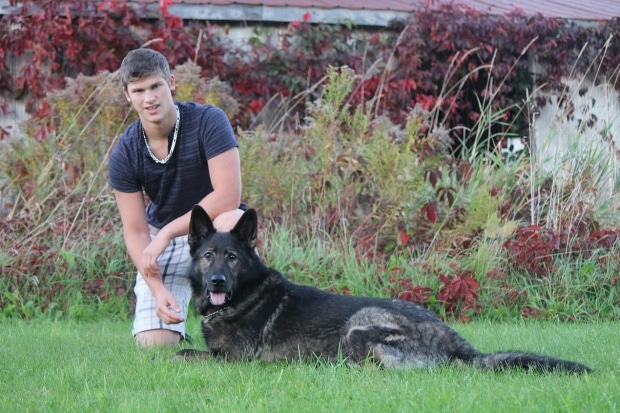 "Knowing that Lloyd cross-country skied and it was dark out, I figured it was kind of weird," said Kuchta.
Kutcha raced home and got his dog Arik.  Arik is a retired Royal Canadian Mounted Police dog.  He was in such a rush to get back to Stone, and when he couldn't find a leash, he used a jump-rope.  He immediately headed out after that to rescue Stone.
"I pointed to the trail, and said, 'Track it.' That's when he started sniffing and he took off.  He snapped the jumping rope and took off running."
It was actually Arik who found Stone first.
Stone says that he will be forever grateful to the two he calls his heroes.  Stone is still regaining his mobility, and it's been a difficult recovery process.  However, he knows that without the help of a contentious young man and his dog, there would have been no hope for recovery at all.
When asked if he was going to strap on the skis and get out on the trail again, he said, "I think I'll give up skiing and take up something safer, like snowshoeing."